Australian Prime Minister Tony Abbott and UK Prime Minister David Cameron have welcomed GSK Australia's announcement of a $31 million investment in next-generation manufacturing technology in Melbourne, which is expected to provide a significant push to the Victorian and Australian economy.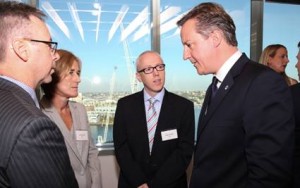 Premier Abbott said the investment was another in the long line of UK investments in Australia throughout history.
"There's a long history of British investment in Australia. After the United States, Britain is by far the biggest investor in this country. There's been a very steady consistent flow of British investment into this country ever since the very beginning of settlement here in 1788," said Mr Abbott.
Premier Cameron said it would further strengthen business ties between the two countries.
"This investment illustrates the strength of the UK-Australia trade relationship and I'm delighted that British scientific know how is stimulating growth and new advancements across the world," said Mr Cameron.
The investment, which was announced ahead of the G20 Leaders' Summit held in Brisbane on 15-16 November, will be directed towards expanding GSK's Boronia site in the outer eastern suburbs of Melbourne.
It will include the introduction of the latest high-speed 'Blow-Fill-Seal' machinery specifically developed for advanced aseptic packaging of sterile pharmaceutical liquids.
The latest Blow-Fill-Seal machine – which is expected to become operational in Boronia in January 2016 – will be dedicated for the manufacturing of Ventolin (salbutamolsulfate) nebules and will allow the facility to meet increased demands from emerging markets in particular China, Turkey and Brazil where patients look for low cost, accessible treatments for asthma.
"Over the past four decades we have invested more in respiratory than any other company. Our focus and expertise in this area has allowed us tremendous insight into patient needs across the world. Investing in improved presentations and manufacturing innovation is just one way we can continue to address these," said Geoff McDonald, VP and General Manager Pharmaceuticals, GSK Australia.
''Cutting edge manufacturing technology plays a vital role for advancing global public health, particularly in emerging markets where affordability can be an issue.  By applying the latest technology to our existing practices we can increase our efficiency, lower costs and improve access of our medicines to those who need them,'' said Gregor McNab, Regional Supply Chain Head Pharmaceuticals, GSK Asia Pacific and North Asia.
The announcement is part of a series of sizeable investments GSK has made in recent years to strengthen its manufacturing capabilities in both Australia and the UK. These include a previous investment of $60 million in Boronia to advance the site's Blow-Fill-Seal capability, new state-of-the-art equipment across a number of sites in the UK and the establishment of two new UK-based facilities specifically focused at harnessing innovative technologies and supporting the business's growing pipeline.