Australia's favourite spread is celebrating its 90th birthday today! That's right, it has been 90 years since the beloved spread made its way into the hearts of Aussies and established itself as a staple in Australian breakfasts.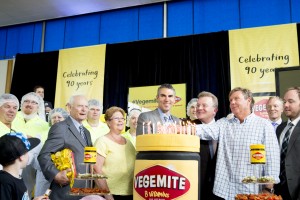 On Thursday Vegemite lovers gathered at the Port Melbourne Vegemite factory to celebrate the huge event. Employees at the factory were joined by Jamie Callister, grandson of Vegemite inventor Cyril Callister, and Tommy Dassalo – comedian and great-grandson of businessman Fred Walker, who hired Mr. Callister to formulate Vegemite in 1923. Also present at the gathering were the Hon. Bruce Billson MP, Minister for Small Business and Member for Dunkley Victoria and other VIPs.
According to a media release Mr. Billson said Vegemite is a prime example of local manufacturing that provides employment to Australians. He praised the more than 50,000 Australians that have been employed by the company over the last 90 years and paid tribute to the founding founders of the iconic product for their entrepreneurial spirit which sent Vegemite into store shelves.
"VEGEMITE is as unique to Australia as the croissant is to France, the hot dog in the US and spaghetti is to Italy. Australia has been home to VEGEMITE since 1923, around the same time construction started on the Sydney Harbour Bridge and Old Parliament House, so it has a special place in the nation's history. What the VEGEMITE story shows is that with some Aussie grit and determination anything is possible," said Mr. Billson.
Kathy Gavrilidis, the factory's site manager who has been with Vegemite for 20 years, said she feels honoured to be working with the brand.
"I feel so humbled and honoured to be part of working with such an iconic and loved product – every day I am proud to say I work for VEGEMITE but never more so than on this special occasion as we celebrate the 90th birthday," Ms. Gavrilidis said.
Darren O'Brien – Managing Director, Foods, offered his appreciation to the extended Vegemite family.
"I would like to personally recognise and thank the hundreds of people who have helped make VEGEMITE what it is today," Mr. O'Brien said.
"We are very proud of the past 90 years and look forward to continuing to be Australia's favourite spread for many more years to come."
A large-scale digital campaign was launched by Vegemite for the month of October. For every 'like' received during the month of October on the VEGEMITE Facebook page, VEGEMITE together with its suppliers will donate a jar of VEGEMITE to Foodbank (up to 90,000 jars) to help ensure less fortunate Australians can also start their day the right way with a nutritious and delicious VEGEMITE breakfast.
The donation handed by Mr. O'Brien during the celebration is part of VEGEMITE's ongoing partnership with Foodbank, Australia's largest food relief agency, designed to give thousands of disadvantaged families the opportunity to start their day with VEGEMITE.
Travel back in time and read our feature on Vegemite's colourful history here. Happy birthday once again, Vegemite!