Kraft Foods Group Inc. will merge with H.J. Heinz Co and form the 3rd largest food and beverage company in North America and the 5th largest food and beverage company in the world.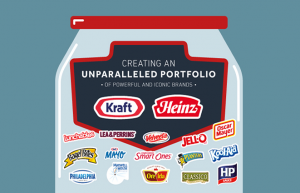 The merger was announced on Wednesday. The combined company will be named The Kraft Heinz Company and will have revenue of about $28 billion.
Kraft shareholders will own a 49 percent stake in the combined company and Heinz shareholders 51 percent.
Bernardo Hees, Chief Executive Officer of Heinz, will be appointed Chief Executive Officer of The Kraft Heinz Company.
The Kraft Heinz Company will be co-headquartered in Pittsburgh and the Chicago area.
"Together we will have some of the most respected, recognised and storied brands in the global food industry, and together we will create an even brighter future. This combination offers significant cash value to our shareholders and the opportunity to be investors in a company very well positioned for growth, especially outside the United States, as we bring Kraft's iconic brands to international markets. We look forward to uniting with Heinz in what will be an exciting new chapter ahead," said John Cahill, Kraft Chairman and Chief Executive Officer, in a statement.
"We are thrilled about the unique opportunities this merger will create for our consumers worldwide, as well as our employees and business partners. Together, Heinz and Kraft will be able to achieve rapid expansion while delivering the quality, brands and products that our consumers love. Over the past two years, we have transformed Heinz into one of the most efficient and profitable food companies in the world while reinvesting behind our key brands and continuing our relentless commitment to quality and innovation," said Bernardo Hees, Heinz Chief Executive Officer in a press release.
Berkshire Hathaway and private equity firm 3G Capital bought Heinz in 2013. Three years ago, Kraft split into two separate public companies; Kraft focused on US groceries, while Mondelez International became an international biscuit, chocolate and lollies operation.
Mondelez International's brands in the Asia-Pacific region include Cadbury, The Natural Confectionary Co, Ritz and Oreo. The company also holds trademark rights for Kraft products such as Vegemite, Kraft Peanut Butter, and Kraft Singles.
The transaction is subject to approval by Kraft shareholders, receipt of regulatory approvals and other customary closing conditions and is expected to close in the second half of 2015.