MEDIA RELEASE
Hino has taken the honours as the number-one truck brand for sales growth in Australia so far this year.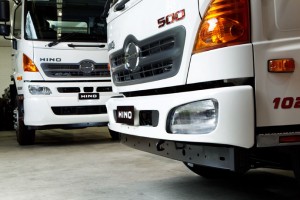 Consistent and strong sales of its 300, 500 and 700 Series light, medium and heavy-duty models have helped the company achieve 15.6 per cent year on year growth to the end of September – 14 per cent above the industry average.
Additionally, sales of Hino trucks and buses for September 2015 are up 22.9 per cent on the same period last year.
Hino Australia's 2015 sales generated stand-out results in individual truck market segments.
Hino light duty sales have grown by 17.5 per cent, beating market average growth which has increased to 11.7 per cent.
Sales of medium duty Hino trucks have grown by 15.0 per cent – a long way ahead of average market growth of 2.0 per cent.
Hino has even boosted sales of its heavy duty models by 6.7 per cent – railing against a market trend in which growth is down by 7.0 per cent.
Hino Australia chairman and CEO Steve Lotter said the results are proof of Hino Australia's synergy with its dealer network, aided by the right vehicles, point of sale and aftersales products for the market.
"The 2015 sales results represent a fantastic effort from all involved," Mr Lotter said.
"They show recognition in the marketplace of the quality, durability and reliability in every Hino model.
"The results also demonstrate the market's regard for the class-leading safety and performance of the 300 Series, the benefit of true automatic transmissions on models like the 500 Series FE Auto, and the capability of our flagship 700 Series.
"It is a challenging climate for selling trucks, but I have no doubt that Hino Australia will work with the same vigour that earned us these great results for the remaining months of 2015," he said.