Hino Motors Limited has announced that it has begun trialling a new fuel cell bus in Toyota City to determine the feasibility and effectiveness of the technology in public transport application.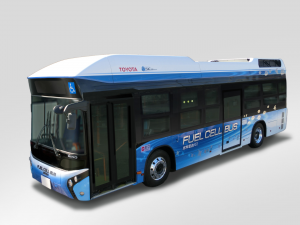 According to Hino, the verification testing in Toyota City is being conducted as part of a public fuel cell bus road trial and emergency external power supply testing scheme, which is being promoted by the Japanese Ministry of Economy, Trade and Industry.
The new bus – which Hino developed in collaboration with parent company Toyota Corporation – features the Toyota Fuel Cell System from the recently revealed Mirai fuel cell vehicle.
Equipped with eight high-pressure hydrogen tanks, as well as two fuel cell stacks and two motors to provide the required power output, the new Hino-Toyota Fuel Cell Bus showcases some of the additional possibilities on offer with the technology, including a system for supplying electric power to buildings and other facilities during emergencies.
Hino said that hydrogen fuelling of the bus is being carried out at Toyota Ecoful Town – part of Toyota City which uses next-gen, low carbon environmental technology on a daily basis – and revealed that the bus began servicing the Toyota Oiden bus route in Toyota City earlier this month.
Hino Australia Manager-Product Strategy Daniel Petrovski said the trailing of new Hino-Toyota Fuel Cell Bus demonstrated the company's commitment to developing environment-focused engine technologies.
"Hino has held a long-term commitment to hybrid technology, and the new fuel cell bus currently on trial shows a whole new range of possibilities," Mr Petrovski said.
"Its development is also a reminder of the strength of the Hino brand and it shows what the company can do together with its parent company, the Toyota Motor Corporation."
To view the buses' specification, please visit: https://hino.pressroom.com.au/press_release