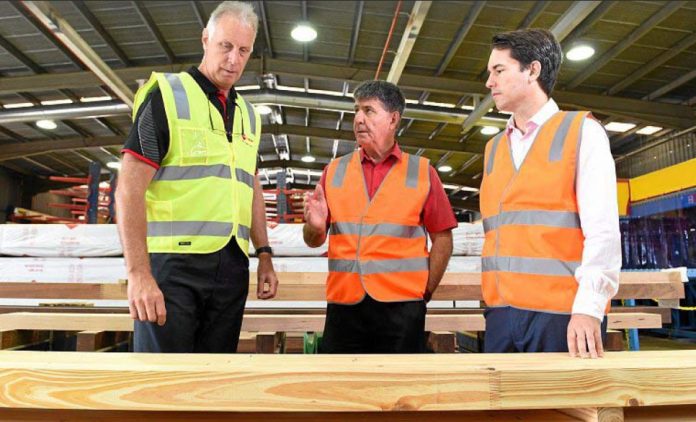 Hyne Timber, Australia's largest privately owned timber manufacturer, will build a state-of-the-art advanced manufacturing glue laminated timber plant with support from the Queensland Government's $150 million Jobs and Regional Growth Fund.
Located next to its existing facility in Maryborough, Hyne Timber's new manufacturing plant will focus on the large-scale production of glue laminated timber that has applications to replace steel in major commercial and infrastructure projects.
Minister for State Development, Manufacturing, Infrastructure and Planning Cameron Dick said the new facility that will create up to 42 new jobs.
"Hyne Timber is now set to become one of the largest glue laminated timber manufacturers in the Southern Hemisphere, allowing the company to expand their product offering to target larger scale, national construction projects," he added.
Member for Maryborough Bruce Saunders said the $20 million investment will also enable Hyne to capture emerging markets.
"Hyne Timber is a sixth-generation, family-owned business that has served the construction industry for over 100 years and their continued growth represents a long-term economic boost for the region," Mr Saunders remarked.
"The company is a major employer in the Wide Bay Burnett region with more than 300 local staff, making it a valuable economic asset for the Maryborough community and surrounding area."
"This project will open doors for this great company and enable them to target larger national construction projects, leading to more jobs and opportunities for Maryborough locals."
Hyne Timber's CEO Jon Kleinschmidt said the funding assistance from the Queensland Government will help accelerate the development of the new facility.
"Increased GLT manufacturing capability has been on our horizon for a number of years and a Queensland Government grant has accelerated this investment," he continued.
"Hyne Timber is a leader in technology implementation, product development and quality control, and this world-class manufacturing facility will drive our growth."
"We plan to employ specialist engineering and design advisors to complement the plant's service offering that will enable us to work with our existing and new customers to help them realise the benefits of mass engineered timber in commercial projects."
Construction of the new plant is expected to commence within weeks.
Image credit: https://blog.hyne.com.au