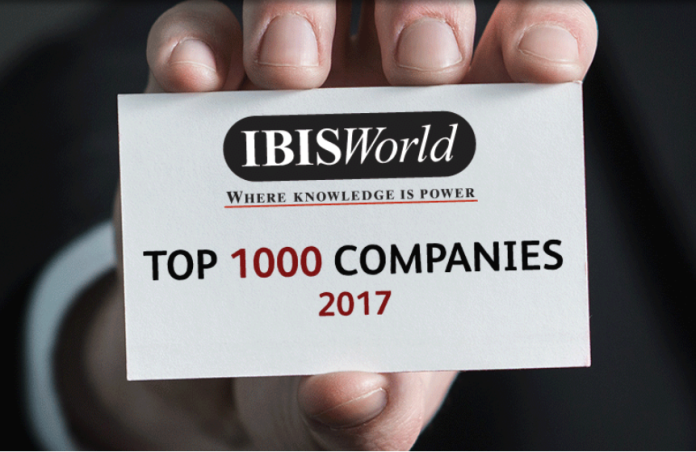 Retail heavyweights Wesfarmers and Woolworths sit at the top of IBISWorld's list of Australia's top 1000 companies for the second year on the trot.
IBISWorld's 2017 Top 1000 list, which was released last week, offers a comprehensive and thorough insight into the corporate landscape in Australia, including the largest firms, growing and declining sectors, and new businesses to watch in 2018 and beyond.
According to IBISWorld data, the Commonwealth Bank of Australia has retained its 3rd position from last year's ranking, with BHP, Westpac, Rio Tinto, ANZ Banking Group, NAB, Testra and NSW Health also securing a top ten position.
Jason Aravanis, Senior Industry Analyst at IBISWorld, noted that the firms on IBISWorld's 2017 Top 1000 list, which account for approximately 28% of all trade in Australia, have had a slightly slower year in terms of revenue when compared to last year.
"Approximately one-third of companies on the list reported lower revenue for the year, with total revenue for the list declining by 2.0% since IBISWorld's 2016 Top 1000 companies list," Mr Aravanis remarked.
He said that although total revenue across the 2017 list has fallen, this loss has been concentrated amongst a small number of large firms.
"Notable companies that generated lower revenue include Westpac, Rio Tinto, ANZ, NAB, and Caltex Australia," Mr Aravanis continued.
"In contrast, JB Hi-Fi, BHP, CIMIC Group and other major companies expanded revenue over the year. Overall, the 2017 top 1000 companies' performance was mixed. For example, 52% of companies on the 2017 list improved profitability."
IBISWorld data also showed that the superannuation funds industry, the mining sector and the petroleum product wholesaling industry have been Australia's top performing industries in 2017, with the telecommunications services industry and consumer goods retailing identified as weaker performing industries for the year.
"Despite the overall decline in industry revenue, the industry's major players, Wesfarmers and Woolworths, were able to grow their revenue as consumers sought out cheap prices at these large establishments," Mr Aravanis said.
"These large firms have been able to succeed in a difficult operating environment due to their economies of scale, which have enabled them to gain market share from smaller competitors."
To access the full list and further analysis visit www.ibisworld.com.au/2017top1000