Iconic chocolate maker Ernest Hillier has entered voluntary administration and is set to be put up for sale within three weeks, the Sydney Morning Herald has reported.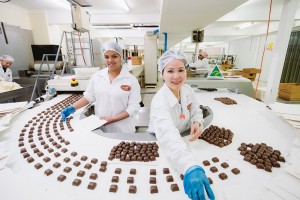 Ernest Hillier is owned by RE Capital, the Australian arm of British private equity firm Hilco Capital, which bought the country's oldest chocolate manufacturer from the Piedimonte family only last year for approximately $11 million.
The company's CEO Mark Campbell told The Herald Sun at the time that Ernest Hillier had a bright future ahead and would chalk up another century in business, despite the surge in cocoa prices and the pressure from cheap overseas imports.
"I'm extremely passionate about the manufacturing industry and believe there's a great future for manufacturing in Victoria. Australia should be positioning itself as the delicatessen for the world, but you've got to innovate," he said.
"Consumers want innovation and we've been putting different flavour combinations in place — like tea infusions — which are a lot more modern. Our brand is coming back."
However, appointed administrator Bruno Secatore, of administrators Cor Cordis, said Ernest Hillier was in need of cash injection to keep the business running.
"It certainly needs an injection of funds. There has been some restructuring but it needs more," he said.
The collapse of Ernest Hillier, which employs 60 workers and has six Melbourne locations, including a manufacturing and packaging plant – follows the fall of the 85-year-old chocolate and confectionery company Darrell Lea, which closed in 2012.