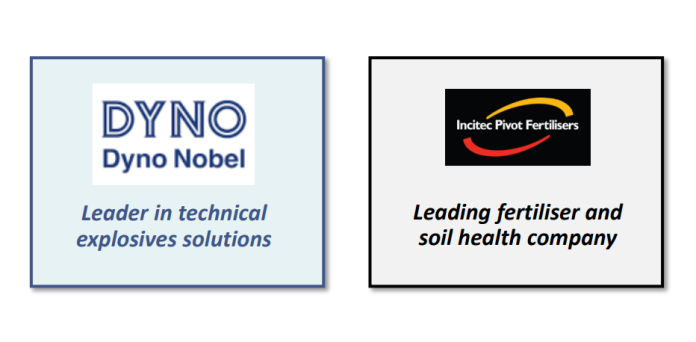 Incitec Pivot has unveiled plans to "implement a structural separation" of its Fertilisers and Dyno Nobel businesses to create two separately listed companies on the Australian Securities Exchange (ASX).
The company intends to establish two customer-focused, technology-driven businesses that will serve two essential industries – the explosives and fertilisers sectors.
The move will result in the establishment of Dyno Nobel – a global leader in technical explosives solutions with strong partnerships and a technology-backed growth outlook – and Incitec Pivot Fertilisers, a leading fertiliser and soil health company with an extensive and vertically integrated network supporting the East Coast market.
IPL Chairman, Brian Kruger said the separation of two industry-leading businesses and brands in Dyno Nobel and Incitec Pivot Fertiliser would deliver "significant value enhancement".
"Our explosives and fertilisers businesses will continue to provide attractive exposure to the essential minerals and agriculture industries that are underpinned by important global megatrends," he said.
"Dyno Nobel and Incitec Pivot Fertilisers will be well-positioned to drive more solutions for our customers which drives value for our shareholders.
"Our category-leading businesses are positioned to grow and address both the opportunities and challenges of decarbonisation of the world's economy."
Managing Director and CEO, Jeanne Johns added:
"With the increased focus on providing our explosives and fertiliser customers with technology-driven solutions, the synergy of sharing an ammonia manufacturing core has become less meaningful.
"Dyno Nobel has leading technologies and market positions in the most attractive mining markets in the world. Incitec Pivot Fertilisers has an unrivalled distribution footprint in the large and attractive agricultural sector in Australia and an exciting technology led future in soil health solutions and biofertilisers."
"Our businesses are critical to the delivery of sustainability and security to two key industries and both companies will continue to focus on delivering leading technology and services for our high-quality customers."
IPL said in a statement that it is targeting completion of the proposed separation process in the first half of 2023, subject to required approvals and consents.
Image credit: https://investors.incitecpivot.com.au/static-files/846420fd-6139-4d20-b67b-4a5902868c67?fbclid=IwAR0UDyypaB08njlDq2du2zgGt4rnfWecc3o9EtQAGc93c-cLq9KH3oWzQjo