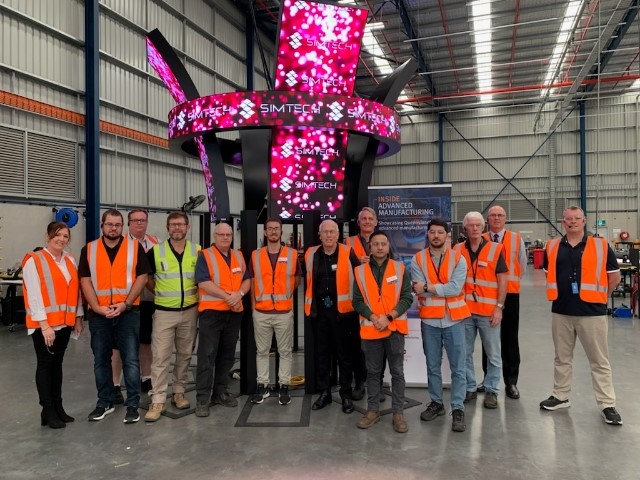 Inside Advanced Manufacturing Week wrapped up last week, delivering another successful program of collaborative education across Queensland's manufacturing sector.
The third annual Inside Advanced Manufacturing was officially opened by the Minister for Regional Development and Manufacturing Glenn Butcher at one of Queensland's leading manufacturers, SimTech Creations, on the Gold Coast, on May 16.
"This event has brought more than 270 delegates from around Queensland through the doors of 18 of our leading manufacturers so they could learn, first-hand, how to streamline and improve their businesses.
"A large number of our Inside Advanced Manufacturing exhibitors are recipients of Queensland's Manufacturing Hubs or Made in Queensland grants. These manufacturers showcased their systems and equipment implemented through their grants.
"Seeing how others have done something is a really practical way to learn and this is all part of the goal to make Queensland the country's leading manufacturing state," Mr Butcher said.
Delegates on the tours were shown how digital technologies and LEAN principles improved efficiencies and created opportunities to grow their businesses.
"We chose to launch at SimTech because this is one business that has refined their manufacturing processes to an exemplary level," he said.
"This family-owned Queensland business is innovative, finding new ways to make  incredible signage that is truly mind-blowing. I've been through this factory and it left me amazed and impressed with the scale and scope of the lighting products this business manufactures.
"It's no wonder they export all over the world – sporting stadiums, outdoor entertainment and including to the world's largest casino, the Sands Casino in Las Vegas. All from their Queensland base. We are thrilled to have them on board and thank them, and all our exhibitors, for being great corporate citizens and participating in Inside Advanced Manufacturing," Mr Butcher added.
The event provides opportunities for manufacturers throughout regional Queensland as well as in the southeast corner to showcase capabilities and capacities, with almost every tour booked to capacity.
According to the Department of Regional Development, Manufacturing and Water, the event has become a landmark on the manufacturing calendar and an example of how the Queensland Government is giving real and practical help to the sector, building connections and helping a community to grow and thrive, delivering jobs and economic benefits in the process. 
Other participating exhibitors included:
NOJA Power
Idec Solutions
SimTech Creations
IR4
Watkins Steel
ZoneRV
GreaseBoss
Status Signs
LiXiA
Global Manufacturing Group – Maryborough
Upton Engineering and Manufacturing
All Industries Group
Consolidated Plastics
Steel Central
Superior Pack
Greensill Farming
Global Manufacturing Group – Gladstone
Rheinmetall NIOA Munitions
Images Supplied.