The inception of Australia's transport industry is rooted in the early years of the 20th century, when the International Harvester Company of Australia (IHCA) was formed in Melbourne to manage the Australian distribution and sales of International Harvester products imported from the United States of America.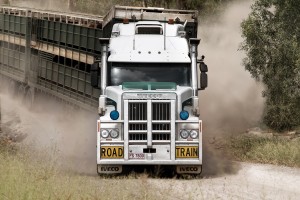 The years that followed witnessed the country's rapid expansion and development, as well as a sharp increase in the number of motor vehicles on the Australian roads, which gradually replaced riverboats as the primary means of moving freight around the country.
This prompted IHCA to establish its own Australian manufacturing operations on the shores of Corio Bay, Geelong in Victoria, where the company built an assembly plant and foundry in 1937.
At the start of the Second World War, IHCA switched from producing farm machinery to manufacturing and assembling military items, including trucks, gas masks, torpedo bombers, service rifles, Howitzers, Bren guns and machine gun carriers.
Realising that imported trucks were inadequate to answer the difficult conditions posed by Australia's climatic extremes, poor road surfaces, long distances and large loads, IHCA established the Dandenong manufacturing plant in Victoria and joined forces with the Australian Government to develop a 4×4 vehicle for use by the Australian Army – the first commercial road transport to be completely designed and manufactured in Australia.
This vehicle became the template upon which IHCA later developed the range of world-standard civilian vehicles which became known as the popular International Australian C-Line Cab-Over (ACCO) series. To this day, ACCO continues to evolve and keep pace with the latest developments in technology with a new model due to be released by the end of the year.
When the Italy-based Industrial Vehicle Corporation (IVECO) acquired the International truck brand and manufacturing facilities in Australia in 1992, it took on the stewardship of more than a century of transport and truck manufacturing heritage in the country and continued to locally manufacture and supply vehicles designed to meet the economic, physical and environmental demands of the tough Australian market.
Iveco, a major contributor to the global transport industry and part of CNH Industrial, is an international leader in the development, design and manufacture of passenger transport vehicles, off-road trucks, buses and coaches as well as special vehicles for applications such as fire-fighting and defence.
Today, CNH Industrial has over 900 staff in the nation's workforce, with more than 550 people employed by Iveco at the Dandenong facility in manufacturing, engineering, research and development, parts, service and administration, as well as at offices and branches across Australia.
The Dandenong plant represents a major investment in the local truck and bus industry, producing several hundred truck and bus chassis per year, and creates employment in Australia for thousands of people in related industries, from retailing operations to component suppliers.