Sydney-based audio company RØDE Microphones has announced that it has introduced multiple new products at an exclusive event in San Diego, USA.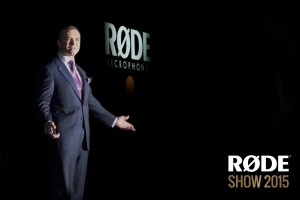 The company revealed the new RØDELink Digital Wireless System – a fully-digital wireless audio system that utilises a next-generation 2.4GHz, 128-bit encrypted digital transmission sent on two channels simultaneously.
The new system will be available in kits for specific audio solutions across film, news gathering, presentation and stage use.
"We're very excited to announce the launch of the RØDELink fully-digital wireless audio system. Continuing RØDE's mission to provide premium performance products at an accessible price, the RØDELink system will be one of the most affordable wireless solutions on the market," said Peter Freedman, RØDE's Founder and President, at the company event in San Diego.
"20 years ago RØDE revolutionised the home recording experience. 10 Years ago RØDE did the same in the video category. Now the time is right for a revolution in wireless audio capabilities, and I believe that RØDELink will become the category leader in a very short space of time."
The first kit to be introduced will be The Filmmaker Kit, which will consist of a belt pack transmitter, on-camera or belt pack receiver, and RØDE's broadcast quality Lavalier microphone.
RØDE also unveiled two new shotgun microphones, the NTG4 and NTG4+, and the new RØDE NTR Ribbon Microphone.
"It's always been a dream of RØDE's to create the world's very best ribbon microphone, but the time was never quite right," said Damien Wilson, RØDE's Global Sales and Marketing Director.
"As many of you know, our manufacturing capabilities have expanded dramatically over the past few years and now we're proud to say we have a facility unlike any other in the world. These expanded capabilities have allowed us to realise this dream, and bring the NTR to life."
The RØDELink Filmmaker kit will be shipping globally in April 2015. For more information, please visit http://www.rodemic.com/wireless.
The NTG4 and NTG4+ will be available globally in February 2015. For more information, please visit www.rode.com/ntg4.
The NTR will also be available globally in February 2015. For more information, please visit www.rode.com/ntr.