Japanese technology giant Kyocera has announced that it has partnered up with Century Tokyo Leasing Corp and Ciel Terre to construct two floating solar power plants  that will become part of an enormous 60 megawatt floating renewable energy network.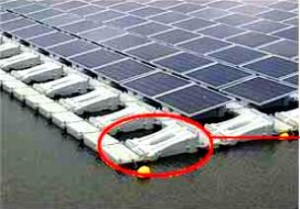 "Under the business, Century Tokyo Leasing will provide finance for the installations, and the Kyocera Group will undertake the supply of solar modules and related equipment in addition to construction, maintenance and operation. Ciel et Terre will be responsible for the supply of floating solar platforms as well as technical input for installing the systems on water. Through the business, the companies hope to contribute to the expansion of renewable energy and development of a low carbon society," reports the official news release by Kyocera.
The two floating solar power plants are set to be up and running by April 2015.
The planned network will have around 30 floating 2 megawatt (MW) power plants, capable of generating a combined 60 MW of power, a spokesperson from Kyocera told Chisaki Watanabe from Bloomberg.
Construction of the first solar farm, which will have a 1.7 MW of power capacity, will begin this month on the surface of Nishihira pond in Japan's Hyogo Prefecture, west of Osaka.
The second solar farm will have a capacity of 1.2 MW and will be built on Dongping pond, Jason Hahn reports for Digital Trends.
Just two of these solar farms will be powerful enough to supply energy to between 483 and 967 American households. Aside from easing land pressure, the floating solar arrays will deliver higher levels of conversion efficiency than standard solars farms, thanks to the cooling effect of the water.
Kyocera and Century Tokyo partnered in August 2012 to develop around 93 MW of solar power plants, Bloomberg reports. So far, 22 MW of these projects have begun operating.