Tesla Motors has announced a $10 billion "gigafactory" in northern Nevada to produce lithium-ion batteries in partnership with Japanese electronics giant Panasonic.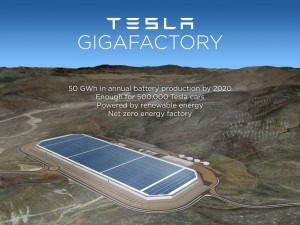 According to the press release by Tesla Motors, the deal was crafted by Nevada Governor Brian Sandoval and Elon Musk, Chairman and CEO of Tesla Motors.
The massive new "gigafactory" will be the largest automotive battery factory in the world at 5 million square feet.
The company will invest $5 billion in the facility within 3-5 years and an additional $5 billion will be invested in planned replacement equipment over a subsequent 10 year period,
"This is great news for Nevada. Tesla will build the world's largest and most advanced battery factory in Nevada which means nearly one hundred billion dollars in economic impact to the Silver State over the next twenty years. I am grateful that Elon Musk and Tesla saw the promise in Nevada. These 21st century pioneers, fuelled with innovation and desire, are emboldened by the promise of Nevada to change the world. Nevada is ready to lead," stated Governor Brian Sandoval.
The net-zero gigafactory will be built in the Tahoe-Reno Industrial Centre, a massive 107,000-acre park that already houses Walmart and PetsMart distribution centres, NV Energy and pet food manufacturer Kal-Kan, reports Fortune.
"I would like to recognise the leadership of Governor Sandoval and the Nevada Legislature for partnering with Tesla to bring the Gigafactory to the state. The Gigafactory is an important step in advancing the cause of sustainable transportation and will enable the mass production of compelling electric vehicles for decades to come. Together with Panasonic and other partners, we look forward to realising the full potential of this project," said Elon Musk, Chairman and CEO of Tesla Motors.
Tesla estimates the facility will be able to make enough batteries to supply 500,000 vehicles a year by 2020.
"On behalf of the State of Nevada, I would like to acknowledge this monumental day and provide my initial support. This is a significant opportunity to make a major stride to improve our state-wide economy. I look forward to receiving the necessary information so the Legislature can meet and take necessary action to support this major industry coming to Nevada," stated Speaker Marilyn Kirkpatrick.
Numerous sources report that Tesla is set to receive up to a 100% tax abatement for the next 20 years for all sales tax, and up to a 100% tax abatement for the next 10 years for all real property tax, personal property tax and modified business tax.
Tesla is also to receive a transferable tax credit of 5% of the first $1 billion it invests in the state, and of 2.8% for the next $2.5 billion.
The Tesla deal will reportedly create 16,000 jobs — including 3,000 construction jobs — aside from the 6,500 factory jobs, at $25 an hour for each position, reports USA Today.
The deal is expected to increasing state employment by 2% and regional employment by 10%.
Tesla will also make a direct contribution to K-12 education of $37.5 million beginning in August 2018 and commit a grant of $1 million to fund advanced battery research at University of Nevada, Las Vegas.
According to Forbes, the first batteries will roll off the line in about three years — when Tesla plans to launch its new Model 3, the "mass market" sedan that will sell for $40,000, or about half the cost of its current Model S sedan.