Thales Group — a world leader in developing electronic systems for the aerospace, transportation, defence and security industries — has announced that it has successfully upgraded the Australian Tiger helicopter simulator in collaboration with prime contractor Airbus Group Australia Pacific and Australian Army Aviation.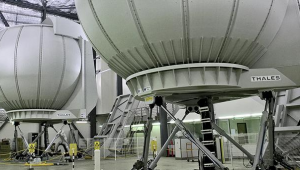 "The improvements to the Full Flight Mission Simulator's (FFMS) Visual Display System (VDS) mean the Australian Tiger simulator now has the highest levels of 'out of the window' realism of any Tiger FFMS in the world," the company stated last week.
The upgrade was completed ahead of schedule "in order to minimise simulator downtime".
"The latest generation BARCO F35 projectors and a new PC-based Image Generators were both added and seamlessly integrated into the existing host computers and visual display platform, providing the crews with 240-degrees vertical by 85-degrees horizontal field of view."
The Image Generators (IG) were replaced with a PC-based IG designed by Thales Australia, using XENON computer hardware, reports the Australian Defence Magazine.
The Australian Army will now be able to conduct cost-effective training in the safety of the simulator, located at Oakey Army Base in Queensland. The FFMS passed its Recurrent Fidelity Check which is required to maintain CASA FSD-1 Level 5 (Level D equivalent) accreditation – the highest achievable level.
"Thales is committed to ensuring that Army Aviation crews receive the highest standards of training, and we will continue to keep these simulators at the forefront of technological performance," Thales Australia CEO Chris Jenkins said.