Kanga has announced the introduction of a new add-on feature to its mini loaders, the Kanga Klean Predator.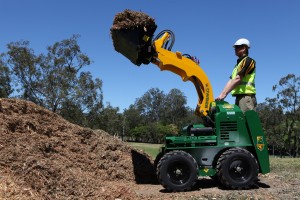 This revolutionary technology removes carbon monoxide and particulate matter from the emissions of a mini loader and Kanga is the first mini loader manufacturer to introduce this new technology.
"The decision to introduce emissions filtering technology came about following the release of the World Health Organisation report a couple of years ago that outlined the severe health risks associated with diesel particulate matter, especially in confined environments. Kanga has been proactive in introducing this technology and as emissions control becomes further regulated in the future it will only be a matter of time until all mini-loader manufacturers need to think about their emissions output," said Kanga Loader's General Manager Rod Lehpamer.
As part of its Kanga Klean program – an initiative by Kanga Loaders – the company has been working closely with its engine supplier Kubota Australia who is set to release T4 engines in Q1 2015.
"With Kanga adopting the T4 engine and fitted with our Predator catalyst, Kanga mini-loaders will effectively become the cleanest mini-loader in the world," said Mr Lehpamer.
Kanga spent more than six months developing the Kanga Klean Predator and also collaborated with the Environment Protection Authority.
"We believe the Hire & Rental industry, Governments and Councils should be among the first adopters of this technology to protect customers from breathing in carbon monoxide and diesel particulate matter," said Mr Lehpamer.
With the new technology, particulate matter is trapped and treated (by oxidation) so it doesn't escape into the atmosphere via the exhaust.
"The advantage of using a Kanga miniloader is it allows access in indoors & confined places inaccessible to bigger machines. This however means, in a confined place, the concentrate of carbon monoxide is much higher and can be harmful to health," said Mr Lehpamer.
The Kanga Klean Predator effectively reduces diesel smoke and particulate matter emissions by up to 70%.
"Particulate matter in exhaust fumes consists of such fine particles we don't even know we are breathing it in. Emissions from older engines can increase fine-particle concentrations to levels significantly higher than background levels. This leads to higher exposure to pollution and greater health consequences for workers and residents," said Mr Lehpamer.
"The EPA is currently investigating options to tighten regulations around off-road diesel engines in Australia. This means it will only be a matter of time until all engines must conform to emissions standards. Kanga are taking a proactive approach to the subject and encouraging all customers to think proactively about emission control in their own businesses."