Following the launch of the sixth Cape Class Patrol Boat at the beginning of the year, Austal – the global defence prime contractor and designer and manufacturer of defence and commercial ships – announced that it has launched the fifth in-series Cape Class Patrol Boat (CCPB).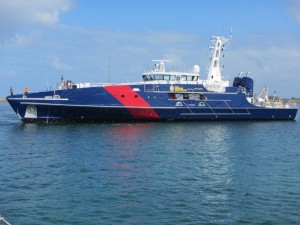 The Cape Jervis – named after the most south western tip of the Fleurieu Peninsula in South Australia – is the fifth of eight Cape Class Patrol Boats being supplied to the Australian Customs and Border Protection Service.
Austal Australia was contracted to design, construct and provide through-life support of eight 58 metre Cape Class patrol boats for the Australian Customs and Border Protection Service in August 2011.
Under the terms of the agreement, valued at approximately $330 million, all boats should be completed and operational no later than August 2015.
"With the delivery of Cape Jervis to the Australian Customs and Border Protection Service on time and on budget our Australian business continues to demonstrate the efficiencies in production realised through the Cape Class program. A benefit to both Austal and our customers on future programs," said Austal CEO, Andrew Bellamy in a media release.
The remaining three Cape Class vessels are at various stages of construction and will be delivered in accordance with the contract.
Austal is also prime contractor for three major defence Programs: the Littoral Combat Ship (LCS) and Joint High Speed Vessel (JHSV) Programs for the United States Navy and two High Speed Support Vessels (HSSV) for the Royal Navy of Oman.
For more detailed information, please go to www.austal.com