Local steel companies have launched a fierce attack on Premier Napthine's Government for the lack of local content requirements as part of the $1.6 billion expansion of Webb Dock, which saw 25,000 tonnes of steel work being offshored to companies in China and Korea at the expense of local manufacturers.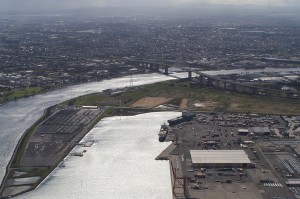 According to the article on The Age, a number of local steel fabricators including Portland-based Keppel Prince and local supplier BlueScope Steel have missed out on the massive expansion of Webb Dock, in a move which is likely to cost the local manufacturing sector further 50-100 jobs.
Keppel Prince General Manager Steve Garner said he was bitterly disappointed and surprised the Victorian Government's usual procurement rules for major projects did not apply to the dock expansion.
"It's a government project and yet they buy all these jobs from overseas and for us it's certainly disappointing," Mr Garner said.
Ian Cairns from the Steel Institute said the Government should have provided local companies with a lifeline at a time when they were facing major challenges to remain viable and avoid further job loss.
"This is work that's really sorely needed in the steel industry and fabrication industry," he said.
"We are just looking for some better support for local content."
Australian Workers Union assistant state secretary Liam O'Brien said its members were hoping the Government would step up and protect the country's local manufacturing which had suffered a massive job loss in recent times following the closures in the car-making industry and the closure of Alcoa's Point Henry smelter.
"If Denis Napthine can't stand up for jobs in his own electorate what hope has the rest of Victoria got," Mr O'Brien said.
Mr Gardner admitted the Chinese steel was cheaper but said he expected the Government to at least give local companies a piece of the action.
"We know we're more expensive here in Australia. At the end of the day you'd want them to make some contribution to Australian jobs, at least give us 20 or 30 per cent of the project, that would have been very handy."