In collaboration with Saab Australia and Thales Australia, global defence company Lockheed Martin has officially opened its new high-tech laboratory in Adelaide which is intended to provide support for the Royal Australian Navy's (RAN) future Submarine Force.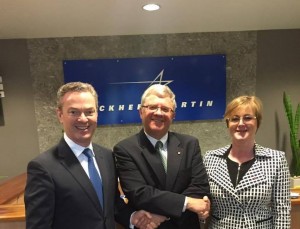 According to the news release by Lockheed Martin, the new Submarine Combat System Laboratory in Mawson Lakes will provide state-of-the-art equipment in a simulated operational environment to realistically test and validate the Royal Australian Navy's concept of operations for the next generation of Australian submarines.
The laboratory encompasses skill-sets such as systems integration, software development and simulation that have wide applications across other defence programs.
"The combat system is essentially the eyes, ears and sword of the submarine and the tactical effectiveness of Australia's future submarine capability will depend on a fully integrated suite of the best technologies from Australia and around the world," said Raydon Gates, Chief Executive, Lockheed Martin Australia & New Zealand.
"Lockheed Martin's ability to seamlessly integrate the best sensors, sonar, radar, navigation, imagery systems and weapons will give Australia's future submarine the strategic advantage it needs to protect our nation. It is critical we get this right for Australia, which is why we have already invested more than $3 million in establishing the laboratory and engaging with the best minds across industry, academia and government."
The official opening ceremony was attended by the Federal Minister for Industry, Innovation and Science the Hon Christopher Pyne MP and the South Australian Defence Industries Minister Martin Hamilton-Smith MP.
"The State Government welcomes this significant investment by Lockheed Martin. Lockheed Martin's decision to create a collaborative environment will bring together local companies, academia and government, beginning with lab-based workshops from January. Defence SA will work closely with Lockheed Martin, Saab and Thales to facilitate and support these workshops to meet the nation's defence challenges," said Mr Hamilton-Smith.
"The State Government wants to develop a long-term partnership between Defence SA and Lockheed Martin to open the technology playground. The laboratory will allow industry and researchers to exploit their innovative abilities."
Minister Pyne said that the collaboration between research and industry will "foster cutting-edge technological advancement and the creation of a highly skilled local workforce that will steer Australia towards a prosperous future."
"Industry and innovation policy is central to the Government's economic agenda; we are focusing on increasing Australia's international competitiveness by helping businesses to increase the commercial returns from Australia's investment in science, research and innovation," Mr Pyne said.
"I think we have come up with a terrific package, and we'll keep on working on it right up until its launch to ensure it hits the mark. When it's released it will be an opportunity to turbo charge this part of the economy and I'm very excited to be the Minister responsible for it. This LMA laboratory is an example of what can be achieved when the focus is on innovation, and it has been great to be part of the opening here today."