Global security and aerospace company Lockheed Martin has reached an agreement in principle with the US Department of Defence for the production of 43 F-35 Lightning II aircraft.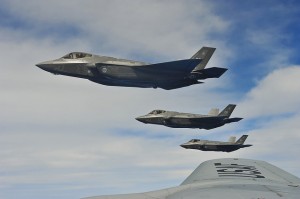 The Low-Rate Initial Production lot 8 (LRIP 8) contract, which is for fiscal year 2014, will likely be finalised in the coming weeks, with deliveries expected to begin in 2016.
The financial details of the agreement have not been released, but according to Lockheed Martin, the average unit price for all three variants of the airframe in LRIP 8 is approximately 3.6% lower than the previous contract.
"Today's agreement is representative of the program's ongoing maturation. Once production of LRIP 8 aircraft is completed, more than 200 F-35s will be in operation by eight nations.  We are glad the Government and LM are completing a fair and reasonable contract for the 8th lot of aircraft," said F-35 Program Executive Officer, Lt. Gen. Chris Bogdan.
The LRIP 8 contract procures 29 US aircraft including 19 F-35As, six F-35Bs and four F-35Cs.  It also provides for the production of the first two F-35As for Israel, the first four F-35As for Japan along with two F-35As for Norway and two F-35As for Italy.  The United Kingdom will receive four F-35Bs.  The contract also funds manufacturing-support equipment as well as ancillary mission equipment.
"Affordability is a key performance parameter in today's challenging acquisition environment. Working together with our suppliers, we are making steady progress in reducing F-35 costs.  While there will always be room for improvement, the results of the LRIP 8 negotiations and initiatives like the Blueprint for Affordability are indicative of our shared commitment to ensuring affordability," said Lockheed Martin F-35 Program General Manager Lorraine Martin.
The Blueprint for Affordability was launched earlier this year with the specific goal of reducing the price of an F-35 5th generation fighter to the equivalent of today's 4th generation fighters by the end of the decade.  The initiative leverages upfront investments from key industry partners Lockheed Martin, BAE Systems and Northrop Grumman to drive down production costs.  Cost savings from this initiative will begin in LRIP 9.