Australian home automation technology start-up Ninja Blocks has announced a USD$700,000 capital raise from domestic and foreign investors, including Sing Tel Innov8, Blackbird Ventures and 500 Startups.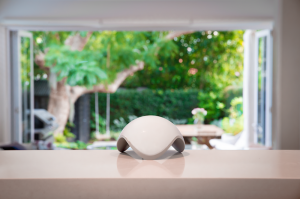 The investment follows a successful Kickstarter crowdfunding campaign, which saw Ninja Blocks bag over $700,000 in January – more than six times its pledged amount.
The company said in a media statement that it will use the funding to ramp up its global strategy and launch its next product – the Ninja Sphere.
Ninja Blocks Chief Executive Daniel Friedman said he was delighted about the opportunity to work with a high-calibre group of investors for the upcoming product launch.
"The early success of our first product, the Ninja Block, opened our eyes to the scope and possibilities of home intelligence. What started as a simple idea has grown into a product we believe has true global appeal," Mr Friedman said.
The Ninja Sphere uses data from sensors and actuators to build a model that can inform you if something is out of place. It can monitor temperature, lighting, energy usage, you and your pets' presence, and anything else you connect to your sphere. By using data from your devices, environment, and location your sphere is able to advise you intelligently and give you control only when you need it.
"The combination of sensors, gesture controls and intelligence put the Ninja Sphere is a league of its own," Niki Scevak from Blackbird Ventures said.
"It's not really about home automation any more it's all about home intelligence, that's where we see the next frontier. We believe Ninja Blocks have the right team and product to become the industry leader."
According to the Australian Financial Review, Ninja Blocks plans to open an office in San Francisco in early 2015 and hopes to tap into the US market.
"Our focus right now is on making the Ninja Sphere a household name in the US. To achieve this we will be setting a local presence, expanding the local team and focusing on delivering home experiences that feel truly magical," Mr Friedman said.
Ninja Blocks was founded in 2012 by Madeleine Moore, Marcus Schappi, and Mark Wotton. The company develops software and hardware that enables all gadgets and home monitors to be connected to the internet and be visible from smartphone or PC, allowing users to monitor the temperature in the home, turn on lights, check out web cams, toggle motion sensors, and pretty much anything else in regards to home security or automation.