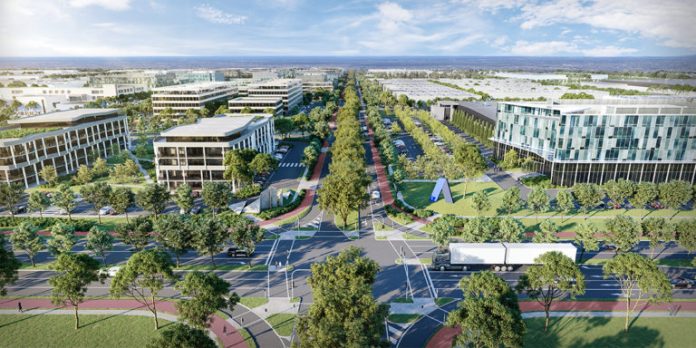 Media Release
Developer MAB Corporation has unveiled its vision for a game changing 21st century business park adjacent to Avalon Airport that will help rebuild Victoria as the Freight State and create more than 18,000 jobs while providing greater access to global markets.
Named Greater Avalon, the $3.3 billion airport edge city is proposed for a 780-hectare site that MAB has acquired adjacent to Avalon Airport at 255-275 Avalon Road that is well-connected to the state's major road and rail freight networks as well as existing and proposed port facilities.
Envisaged for the parcel is a world-class industrial and business precinct that will have a strong focus on large-scale manufacturing, transport and logistics, wholesale trade and airport-related uses. It is expected these businesses will in turn attract an ecosystem of smaller-scale businesses, ancillary services and related education, training and research activities.
MAB Managing Director, Andrew Buxton said Greater Avalon presented a real opportunity to secure Victoria's competitive edge in the industrial sector and attract national and international large lot industrial occupiers well into the future.
"Greater Avalon will redefine this region of our state as Victoria's global gateway, securing a strong economic future for Victoria with the benefits to be felt for generations," he said.
"A well-planned airport integrated with surrounding industrial development strongly aligns with Victoria's planning and growth agenda and can provide a major employment and economic boost for the entire region. Opportunities to deliver a 21st century business park of this scale next to an international airport are extremely rare and the potential economic benefits are significant.
"It will create a thriving multi-use precinct and meet untapped industry demand. It is a true game-changer that will further Victoria's reputation as the Freight State by linking Avalon to the world."
Deloitte Access Economics said up to 18,150 new jobs would be created and workers would be able to find employment closer to home. In fact, the development and operation of Greater Avalon is estimated to generate an additional 694 full-time equivalent jobs on average each year over the 40 years to 2061, across the Geelong- Wyndham region. Over the same period they also estimate that the Gross Regional Product for the region will increase by $2.2 billion in net present value terms.
Nicki Hutley, Partner at Deloitte Access Economics, said that MAB's Greater Avalon vision aligns strongly with the underlying economic characteristics of the Geelong-Wyndham region and is ready to leverage the region's unique underlying strengths.
"An airport with expansion potential and international links, a fast-growing population, a skilled local workforce, well- designed infrastructure and proximity to major transport infrastructure, are all critical factors of advantage for Greater Avalon to attract industry investment and deliver ongoing prosperity for the region.
"Over time, the business park would provide a breadth of employment opportunities for Victorians, a critical factor as the Victorian Government works to repair and strengthen the economy," she said.
MAB is poised to submit a rezoning request for the land, with a vision to commence construction in 2022 ahead of the first business operations commencing in 2023.
Over 25 years, MAB has played a key role in shaping the Victorian industrial market, setting new benchmarks for creating the right settings and locations, proven to attract business and enable them to grow and prosper. MAB has been a catalyst for new investment in Victoria, attracted some of Australia's leading manufacturing, industrial and warehousing companies to its award-winning business parks – including Ford Australia, Dulux, Woolworths, Siemens and Mainfreight.
Mr Buxton said MAB will tap into its strong relationships with local and global players to secure anchor occupiers and tenants.
"We know that reputable brands with a history of long-term investment, innovation and job creation act as magnets for future investment and attract related business and support services. We are confident the Greater Avalon precinct will attract significant investment that will continue to spur further economic growth," Mr Buxton said.
MAB's Greater Avalon site is just 52 kilometres from Melbourne and 14 kilometres from Geelong's CBD, with access to key road and rail freight networks including the M1 Princes Freeway, the Geelong Ring Road and the proposed Outer Metropolitan Ring Road.
Greater Avalon is further connected to Geelong Port and the Port of Melbourne. It is close to the preferred location for Melbourne's second container port at Bay West, between Avalon and Werribee and to the proposed Western Interstate Freight Terminal in Truganina.
It is expected to appeal to a range of industries including aerospace, aviation, energy, agribusiness, advanced manufacturing, transport and logistics and information technology.
Planned as a sustainable city of the future, the development approach considers the globally significant Ramsar wetlands and coastal reserves to the south of the site, with more than 40 hectares of intertidal habitat to buffer and integrate with the area.
Drainage reserves, formal parks and a 50-hectare conservation nature reserve throughout the precinct will combine to create a natural landscape that promotes regional biodiversity and protects environmental values and natural assets.
MAB is currently working with local and state government to secure support for its vision ahead of its rezoning application in 2021.
Image credit: www.mab.com.au