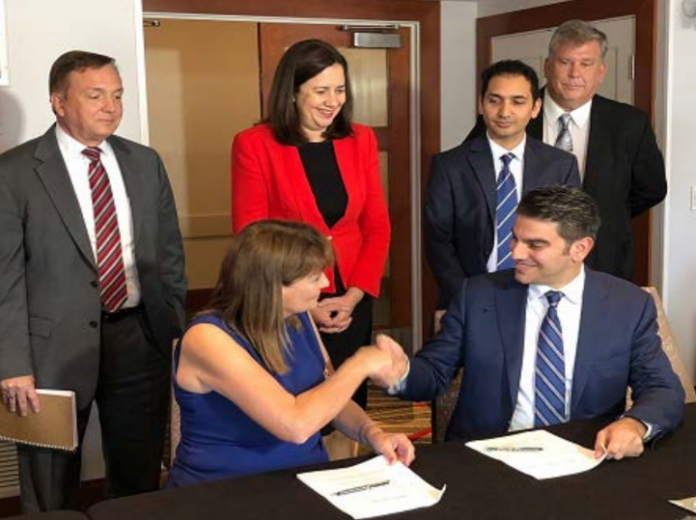 Magnis Resources has secured new project partners to fast track the Townsville Lithium-ion Battery Plant.
The company has announced that SIEMENS, Celgard, Probuild, Norman Young & Disney, Ausenco and WT Partnership will join the Imperium3 consortium, which is looking to build a gigafactory in Townsville that should lead the way to cheaper and more efficient lithium-ion batteries.
The new partners are in addition to the existing Imperium3 consortium which consists of Magnis, C4V, Boston Energy and Innovation, Eastman Kodak Group and C&D Assembly.
QLD Premier, Annastacia Palaszczuk, who attended the signing ceremony hosted in Boston, said the State Government has committed $3.1 million in funding that will allow for a feasibility study and detailed engineering work programs for the project to begin immediately.
"Storage is fundamental to making renewable energy reliable, and that's why my Government has already committed more than $3 million towards assessing the feasibility of this project," the Premier stated.
Magnis Chairman, Frank Poullas, said the announcement was a significant milestone for both Imperium3 and Magnis shareholders.
"We are pleased that the Queensland Government, as well as our new project partners measure this project at such high importance," he added.
"We look forward to working alongside the government, as well as our new and existing project partners to ensure key deliverables are met in the most efficient manner possible."
Imperium3 Director, Corey Cooney welcomed the addition of the new project partners to the Imperium3 consortium.
"Today marks yet another milestone that has been achieved for Imperium3," Mr Cooney stated.
"After months of negotiation with the Queensland government we will now be working toward securing stage 2 funding and completing our feasibility study."
"Our new strategic partners will be providing their expert knowledge to complete the feasibility study, fast track delivery and optimise an investment decision outcome."
According to Magnis Resources, stage 2 financing discussions are currently underway with various members of local, state and federal government along with government funds, super funds and private groups.
The plant,  to be built at Woodstock, is expected to create up to 1000 direct jobs and position
Townsville as a global leader in advanced manufacturing.
Image credit: Magnis Resources ASX release