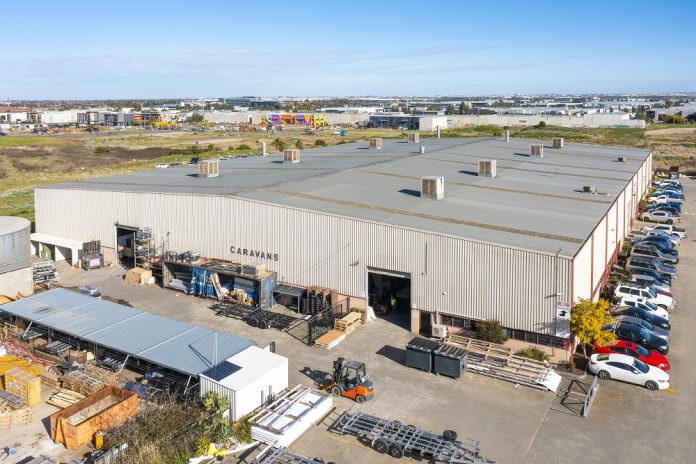 Media Release by Fitzroys
Epping's emergence as Melbourne's "CBD of the north" is continuing to attract manufacturing operators.
In the latest deal, Fitzroys' Marco Sandrin and Brent Glassford have leased a 6,000sqm multipurpose facility at 6-8 Dream Haven Court to Creative Composites, who are specialised manufacturers of high-quality composites.
The property comprises the substantial factory, warehouse and office facility, as well has hardstand areas and secure and ample on-site parking.
Rents in the area for older style assets range from $60 to $70 per sqm, while newer facilities range from $85 to $95 per sqm.
"This multipurpose facility instantly appealed to a variety of users due to its functionality, as as did the property's location close to the Epping Central precinct," Sandrin said.
"The COVID period has clearly seen intensified demand from warehousing and logistics operators, and we're particularly seeing a lot interest in the northern suburbs from occupiers in the manufacturing industries. We received huge interest in this facility and the deal was struck quickly so the landlord enjoyed no downtime between leases.
"Epping is undergoing a generational boom that has seen it become a commercial, retail and logistics hub, and emerge as Melbourne's 'CBD of the north'."
A number of major infrastructure, logistics, advanced manufacturing, and large format retail projects have recently been completed in Epping, with many more planned. Sandhurst Retail and Logistics is planning a $500 million, 140-hectare industrial estate, and Mazda recently completed its 3.7-hectare national parts and distribution centre. Riverlee has started work on the $2 billion mixed-use development at the former Epping Quarry.
The suburb is also home to Pacific Epping regional shopping centre and the Melbourne Wholesale Fruit Vegetable & Flower Market, and has also attracted investment from ASX listed players Charter Hall, Centuria Industrial REIT and Aventus.
Glassford said the site offers excellent accessibility, an attribute that has become soughtafter amid the boom in demand for logistics and warehousing and which has also played a major role in the evolution of Epping.
He said the property is connected to the Hume Freeway, Metropolitan Ring Road, Western Ring Road and Tullamarine Freeway, opening up access to the rest of Melbourne as well as Melbourne Airport.