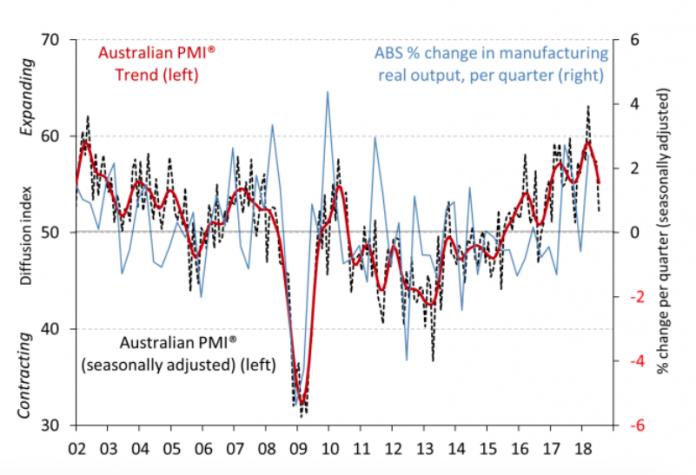 The Australian Industry Group Australian Performance of Manufacturing Index (Australian PMI) has jumped 9.4 points to 53.7 in March due to a huge surge in demand for manufactured food, groceries and personal care items.
The result points to a somewhat surprising expansion in the manufacturing sector, given the escalating COVID-19 pandemic and emerging recession and the sector's four months of consecutive contraction prior to the March readings.
The report attributes this growth to a massive increase in demand for manufactured goods as shoppers stock up on processed food, toilet paper, cleaning products and other household essentials.
Ai Group Chief Executive Innes Willox said the local manufacturing businesses that make these goods are mainly in the 'food & beverages' and 'chemicals' sectors that account for a large proportion of Australian manufacturing, adding that Australian manufacturers are being impacted in very different ways by the COVID-19 outbreak.
"Some are stepping up to meet surges in purchasing from consumers, businesses and the health sector," Mr Willox noted.
"Others are finding that disrupted supply chains into export markets and from suppliers of inputs are reducing sales and stifling production.
"Others are seeing sales dry up as their customers reduce orders to reflect their own demand and supply conditions."
Mr Willox said the aggregate impact for the manufacturing sector in March was 'a slight increase in production', strong growth in sales and employment and a sharp rise in new orders.
"The situation is changing rapidly and the later responses to the March survey were more likely to be negative than the earliest responses received," he continued.
"With over 920,000 jobs at stake, and much of the sector critical to the supply of food, sanitisation and health needs and the infrastructure and supply chains that support them, every effort should be made to keep manufacturing businesses going for as long as they can operate safely.
Ai Group's report is available at: https://www.aigroup.com.au/policy-and-research/mediacentre/releases/PMI-March-2020/
Image credit: aigroup.com.au