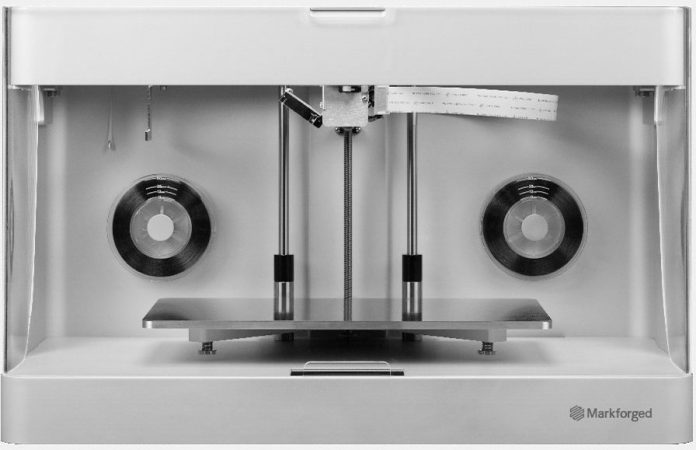 Australian businesses will now be able to get their hands on the first affordable industrial 3D printer in the country thanks to Aussie 3D, a 100% Australian-owned and operated company that aims to facilitate the next giant leap forward in the tech world.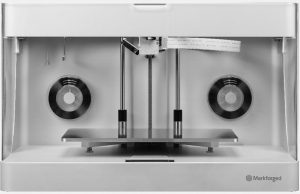 Aussie 3D is now the official distributor for Markforged, an American company that manufacturers the Mark two 3D printer which prints with Carbon Fibre, Onyx, Kevlar, High Temperature Fiberglas and Nylon.
The Onyx filament is perfectly suited for all applications that demand a high-performance material due to its toughness of nylon, stiffness of a fibre reinforced plastic, and a heat deflection temperature of 145°C.
A fusion of engineering nylon and chopped carbon fibre, Onyx is about 3.5 times stiffer than standard nylon and comes straight off the printer and ready to use in real world environments. Additionally, customers can use it with other high-strength fibres – carbon fibre, Kevlar, fibreglass, or HSHT fibreglass – to even further strengthen their parts.
"With Onyx and composite fibres, the strength of your 3D printed parts can reach staggering levels, which is awesome," read the press release on the PR Web.
Kevlar has a high tensile strength to weight ratio which far exceeds that of steel and specialist metal alloys used in aerospace engineering.
Because of this, it is used extensively in the manufacture of panels and wings for fighter jets, including the Eurofighter Typhoon.
Kevlar is also used for the bodywork and petrol tank of Formula One racing cars, as well as in bulletproof vests, Tyers, fireproof clothing and boots.
High Temperature (HSHT) Fibreglass is twice as strong as the standard fibreglass filament and has a 30% higher heat deflection temperature (HDT) at 150 C, while remaining a more affordable option than carbon fibre reinforcement.
These high temperature materials properties are especially valuable for customers in the aerospace and automotive industries, who now have the material they need to develop "under the hood" 3D printed parts and components for higher temperature environments.
Carbon fibre has the highest strength to weight as well as the highest thermal conductivity and is perfectly suited for applications requiring the greatest possible stiffness and strength.
A Markforged Senior Application Engineer created a 3D printed fully functional carbon fibber hacksaw that he designed and printed on a Mark Two 3D printer.
The hacksaw is reinforced with a carbon fibre zebra pattern to provide optimal rigidity for its intended use.  Unlike Kevlar, which provides some flexibility when in use, the carbon fibre is an ideal choice for this part and best meets this part's strength requirements.
According to Aussie 3D, these next generation 3D printers start at $9999 ex GST. For more info, email info@aussie3d.com.