South Australian Minister for Manufacturing, Innovation and Trade, Tom Kenyon has officially launched OzRoll Industries' 100kW commercial solar system and demonstration site, which has been developed in partnership with Schneider Electric.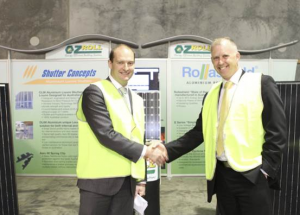 According to a media release the two companies have been working together to provide a commercial solar solution which can be replicated by other businesses. The site features 608 Solapowa mono-crystalline PV panels from OzRoll and five Schneider Electric Conext TL three-phase grid-tie inverters.
In the future the installation site will also be used for education and training exercises which will support both companies' commitment to informing Australian customers about energy efficiency.
"Both sites are good examples of innovative manufacturing," says Mr. Kenyon. "This is what success looks like."
Schneider Electric's Sales Director-Partner Solutions Geoff Timbs hopes that other businesses will follow suit.
"We can only encourage other businesses to look to this solution and take similar steps to secure their own electricity supply and pricing into the future," Mr. Timbs said.
"OzRoll Industries chose to partner with Schneider Electric for our 100kW roof top project, not only because of Schneider Electric's quality design and integrity of the Conext range of inverters, but because it provided us with the opportunity to further build and develop on our excellent working relationship," said OzRoll Industries CEO Chris Parkinson.
Schneider Electric has been present in Australia since the 1960's and currently employs 3,300 employees in the country, with factories and R&D centres in Adelaide, Benalla (VIC), Melbourne and Sydney. Over the last two decades the company has expanded by acquiring firms which would complement its business making it a global leader in energy management.
Meanwhile OzRoll Industries designs, manufactures and provides solar energy products including solar panels and window solutions.
OzRoll expects the system to reduce energy costs by $24,000 each year, producing almost 133MWh of electricity per annum and lessening CO2 emissions by over 120 tonnes.