Carbon fibre composites manufacturer Quickstep Holdings has reported strong results for the financial year as sales increased by four-fold to $2.6 million in 2013 compared to last year's $0.5 million.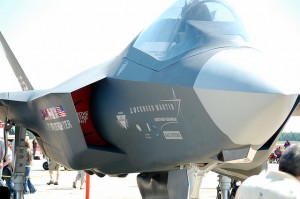 While the company announced a loss of $16.9 million for the year, the figure was in line with their expectations, according to a media release.
Quickstep also announced that it expects significant future revenue growth in 2014 due to its contract manufacturing activity for the F-35 Lightning II Joint Strike Fighter Program. The company will also begin delivering C130J flaps to Lockheed Martin.
Quickstep reports that sales for the first two months of FY2014 were $1.05 million, a huge leap from the $120,000 sales in the previous corresponding period. Firm orders now stand in excess of $27 million, to be delivered mostly before the end of December 2014.
In July the company announced that it has delivered the 100th manufactured carbon-fiber composite part for its contract with Northrop Grumman, marking yet another milestone in its involvement with the world's largest military aerospace program.
The international F-35 Lightning II Joint Strike Fighter (JSF) program is the largest military aerospace program in the world, valued in excess of US$300 billion worldwide. About 3000 JSF aircraft are expected to be delivered during the course of the program.
Quickstep's participation in the JSF program is expected to generate revenue of approximately $40 million per annum.
Quickstep Managing Director Philippe Odouard says 2013 is the year that the company was able to prove its manufacturing capabilities.
"FY2013 was a year of strong progress for Quickstep. We proved our capability in manufacturing and delivery of high-grade advanced composite components for the Joint Strike Fighter program and completed all qualification tasks required by Lockheed Martin for the C-130J, enabling Quickstep to receive approved supplier status," Mr. Odouard said.
"This moves us into the delivery phase on these contracts and places us in a good position to win additional aerospace composites work."
Quickstep's growth has been largely propelled by its success in marketing its technologies. In July it secured an A$6 million contract that will deliver its "Quickstep Process" system to Russian aircraft composites manufacturer ORPE Technologiya. In August it announced that its Resin Spray Transfer technology is now on the fast track to commercialization.
"We have begun to market this technology to European car makers and have already received requests for quotes for the manufacture of automotive parts," says Mr. Odouard.
Moving forward Quickstep expects is cash-flow to be positive in FY2015, with its strong order book and its capability to win new work.