The Geelong region is leading the way in cutting edge scientific research with the Federal Government committing an additional $3 million for the expansion of the Geelong Centre for Emerging and Infectious Diseases (GCEID) laboratory at Deakin University.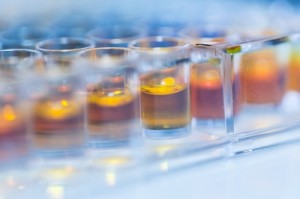 On Tuesday Assistant Minister for Employment, Luke Hartsuyker joined Member for Corangamite, Sarah Henderson to tour the centre which develops treatments for new infectious diseases such as SARS, Hendra virus and bird flu.
"This is a wonderful opportunity to see first hand some of the fantastic innovation and ingenuity that Geelong has to offer," Mr Hartsuyker said in a media release.
"The Federal Government has committed $3 million to the $12 million project to establish a larger site for GCEID, creating about 30 new ongoing jobs and 107 jobs during construction."
Yesterday the Federal Government's Victorian Economic Review Panel convened to share the design of the recently announced $100 million Growth Fund which is set to assist the regions impacted by the downturn in manufacturing.
Among the industries that the panel aims to help are advanced manufacturing, pharmaceuticals, biotechnology and medical devices; food processing, and information and communications technologies.
Ms Henderson said the investment in the centre is a good example of Geelong's potential as a leading hub for science, research and innovation industries.
"We have a strong future in smart manufacturing," Ms Henderson said.
"GCEID's researchers are a credit to our region, leading the way in keeping the community and food sources safe from infectious diseases."
The GCEID was established in partnership with the City of Greater Geelong, Barwon Health, CSIRO Australian Animal Health Laboratory (AAHL) and Deakin University.