Government-owned Australian naval defence company ASC Ltd said building Australian navy ships overseas is a key part of keeping the local naval manufacturing industry alive.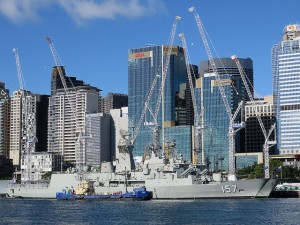 The company formerly known as the Australian Submarine Corporation is hoping to secure government tenders to replace the two navy ships HMAS Success and HMAS Sirius, with two vessels built in Korea and a third one manufactured in Australia.
In an AAP report published via The Australian, ASC's Executive General Manager Strategy & Communications Sean Costello said the local shipbuilding industry does not have the capacity to build all the ships that the navy needs as quickly as they are needed.
"Our Korean shipyard has a shorter schedule than the Australian shipyard – they can build it more quickly," Mr. Costello told AAP on Tuesday.
"The remaining ships, while they will be delivered to the navy, will be structured to keep Australian shipyards in work."
Costello emphasised the need for local manufacturers to work with international partners to provide ships for the Australian navy, since it would not be profitable to build a factory for the purpose of producing a few parts. However it does not mean naval manufacturing would be lost in Australia.
Speaking at the 2013 Pacific International Maritime Exhibition at Darling Harbour Mr. Costello released ASC's blueprint for a sustainable Australian naval industry, beginning with a Ship or Submarine Integrator (SI) that will be appointed to manage all future navy shipbuilding projects.
"The SI is the guardian of the complete value chain – the 'single point of truth' accountable for integrating all systems and data on a warship or submarine," Mr Costello said, quoted in a news release from the company.
"This same value chain works with all classes of ships and submarines, in all stages of their life cycle from plan to design, supply, integrate, produce, test and accept."
According to the media release ASC's five key recommendations are:
1. Implement rolling ship and submarine building programs to sustain industry throughout;
2. Build a capable in-country naval 'value chain' built on domestic and international sources of supply;
3. Implement best commercial practice across the value chain for greater productivity;
4. Increase in-country capability in submarine and ship integration to include warship design; and
5. Establish, maintain and execute a strategic science and technology program
"The most important benefit of a sustainable and productive Australian naval industry is an improvement in Navy capability," Mr Costello said. "But a wider value is also realised through creating a continued flow of work for Australian shipyards."