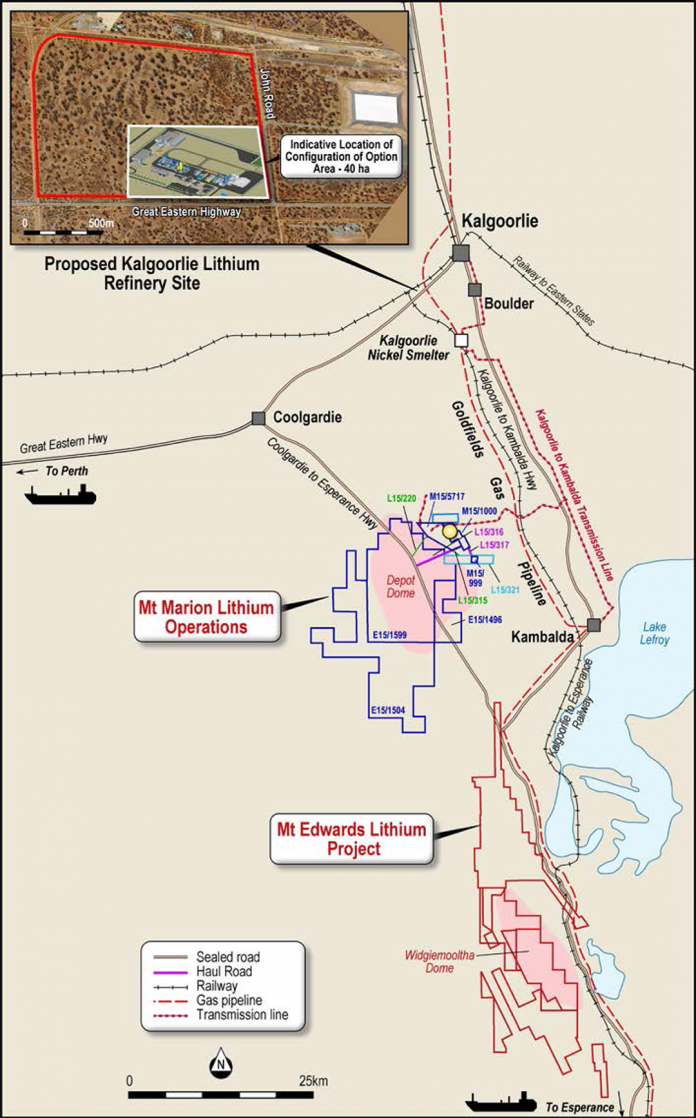 Neometals has signed an option agreement with the City of Kalgoorlie-Boulder to sub-lease a 40 hectare site for its proposed lithium hydroxide facility.
The agreement provides Neometals with a two-year option over the site, during which time the company will undertake due diligence and Front End Engineering Design studies as part of a broader feasibility study for the refinery which is already underway.
The proposed Kalgoorlie Lithium Refinery, which will have an initial 10,000tpa lithium production capacity, will process lithium concentrate from the nearby Mt Marion Lithium Operations, in which the company has a 13.8% project ownership stake.
Neometals CEO Chris Reed said the proposed 40-hectare site would allow the company to develop 'a closed loop lithium ecosystem' given its proximity to the Mt Marion Lithium Operations.
"Neometals has been investigating sites for some time and this Kalgoorlie location makes a lot of sense," Mr Reed said.
"Kalgoorlie is not only very close to our Mt Marion operation and all the services that a first-class mining town brings, but it also provides a cost advantage owing to the removal of transport, shipping and taxes."
"Reducing transport reduces the environmental footprint which supports margins, but it's also a critical consideration for the end users who must account for the full life cycle of the materials they consume."
Western Australian Lands Minister Rita Saffioti welcomed the signing of the agreement, saying the new facility would strengthen the State's reputation as the world's leading lithium producer.
"The development of the Kalgoorlie Lithium Hydroxide Facility will put the Eastern Goldfields of Western Australia at the forefront of this growing resource industry," the Minister said.
"When completed, the Kalgoorlie Lithium Hydroxide Facility will produce a battery-quality lithium product suitable for use in the lithium-ion battery industry."
"The State Government and City of Kalgoorlie-Boulder will continue to work together to ensure that this development creates a jobs boost which will benefit the Eastern Goldfields community."