101 blue collar contract worker jobs have been lost at Australian naval shipbuilder ASC due to the gradual winding down of the Air Warfare Destroyer (AWD) project and the uncertainty over whether the next generation of submarines will be built at the company's construction facilities in Osborne, WA.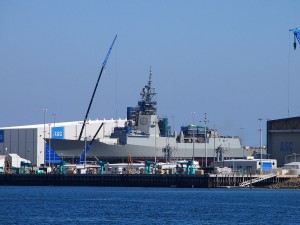 The company said that affected worker positions included boilermakers, welders and pipefitters, all of whom were employed on the AWD Project.
The latest cuts at the state-owned shipbuilder brings the total tally of layoffs across Australia's shipbuilding industry to more than 500 this year alone, renewing calls for the Federal Government to move quickly and commit to a continuous naval shipbuilding program.
Defence Industries Minister Martin Hamilton-Smith said the Federal Government's indecisiveness over defence procurement was hurting Australia's major shipbuilders and their workforce.
"This news is extremely disappointing for the workers and their families. Federal Government indecision on defence procurement is causing job losses at Melbourne based BAE Systems Australia, Newcastle based Forgacs and Adelaide based ASC," Mr Hamilton-Smith said.
"The State Government is supportive of ASC's endeavours to improve productivity. However consistent job losses underline the need for the right decisions to be made in Canberra about submarines and surface ships. The Federal Government must provide Australia's defence industry with clarity and immediately rule out an overseas or hybrid build."
Commenting on Tony Abbott's announcement that he will soon release a plan to restructure shipbuilding in Australia to avoid further layoffs, Mr Hamilton-Smith said the plan must include a "firm commitment "to back Australia's naval shipbuilding capabilities and to support Australian workers and their families, small business and defence industries."
"What we need now from the Federal Government is the delivery of a 30 year continuous strategic ship building plan for Australia to rescue an industry which is hanging on for survival. $250 billion worth of naval shipbuilding work is at stake over the next 30 years. Economic modelling shows that there are 120,000 man-years of work at risk if the Federal Government decides to send the submarine build overseas," the Minister said.
"South Australia is the centre for excellence in naval shipbuilding, underpinned by our highly skilled workers. Our next generation of submarines and Future Frigates must be built in Australia, by Australian workers, to defend Australia."