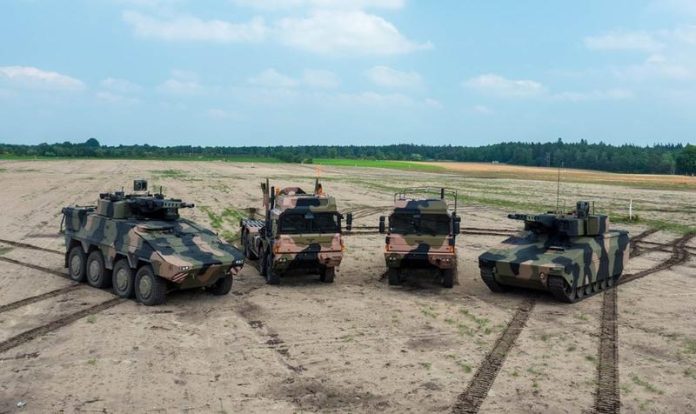 The $170 million Military Vehicle Centre of Excellence (MILVEHCOE) at Rheinmetall Defence Australia's new HQ in Redbank is now finished and ready for fit-out.
The facility, which is expected to be officially launched in July 2020, will be capable of the design, manufacture, sustainment and export of military vehicles, turrets and tactical systems, including the Combat Reconnaissance Vehicle program.
It will initially be used by Rheinmetall to conduct heavy grade repair, integration and support to Defence's new logistics vehicles, before being utilized for production and maintainance of the Boxer 8×8 Combat Reconnaissance Vehicle capability in 2022.
Queensland Premier Annastacia Palaszczuk said the building will be the engine room of military vehicle manufacturing at Rheinmetall Defence Australia.
"With construction only commencing on the MILVEHCOE in late 2018, I commend Watpac, as managing contractor, on the cracking pace that has delivered this impressive 30,000 square metre production building ready for use," the Premier continued.
"With the site's workforce hitting a peak of 365 tradies, apprentices and trainees in the month of November, Watpac's sustained efforts has it well placed to have the entire MILVEHCOE facility completed by mid-year."
Minister for State Development, Manufacturing, Infrastructure and Planning Cameron Dick said the production building will allow Rheinmetall to deliver the historic LAND 400 Phase 2 contract, which is expected to contribute up to $1 billion to the state's economy.
"Delivering large and complex infrastructure projects and bringing them in on budget is one of our key capabilities, and under our long-term partnership with Rheinmetall, this has allowed Rheinmetall to remain focused on its core business," Minister Dick said.
"Since winning the $5.2 billion LAND 400 Phase 2 tender in February 2018, Rheinmetall has been busy building its Australian workforce, training them in Germany to manage the technology and skills transfer, and importantly delivering the first tranche of Boxer combat reconnaissance vehicles to the Australian Army."
Rheinmetall Defence Australia Managing Director Gary Stewart said the company's current 200-plus Queensland-based employees were keen to move into the new premises.
"Larger in size than four football fields, the production facility will be the beating heart of our operations and will accommodate many facets of our military vehicle operations," Mr Stewart said.
"In addition to three simultaneous vehicle production lines, the production facility will feature a weld shop, an armoury, prototyping workshop, turret and simulator assembly, paint booths, heavy maintenance and a large warehouse area.
"When the rest of the facility comes on-line, the MILVEHCOE will be the most advanced military vehicle manufacturing facility in the country and the home of a truly Australian sovereign military capability."
Image credit: www.rheinmetall-defence.com