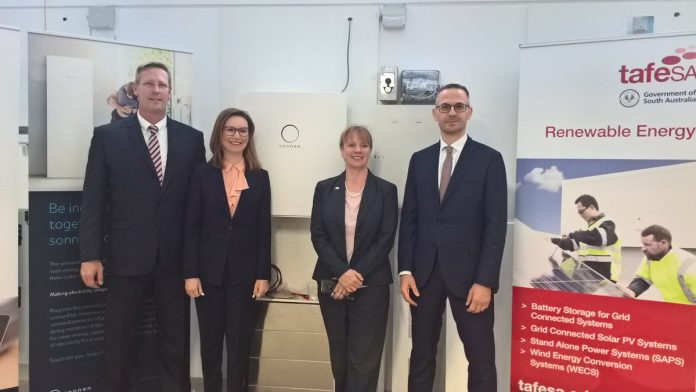 German battery storage company sonnen has selected TAFE SA as the preferred accredited training partner for installers of their battery system.
Education Minister John Gardner said TAFE SA's agreement with sonnen – which earlier this year announced plans to build a battery manufacturing plant in Adelaide – will ensure that local electricians are well placed to be accredited to install the new home batteries.
"The Marshall Liberal Government's Home Battery Scheme is delivering immediate job opportunities, and this partnership with sonnen presents a significant opportunity for TAFE SA students to capitalise by receiving quality training in an area where skills are needed in the workforce," said Minister Gardner.
"We are committed to delivering training that equips South Australians with skills sets that align with industry needs."
Several sonnenBatteries have already been installed at TAFE SA's Tonsley and Elizabeth campuses in order to boost its training capabilities.
Mr Gardner said the partnership is expected to spark a significant increase in enrolments for TAFE SA's renewable energy and battery installation courses, with extra training being offered to meet the demand.
"Interest in TAFE's renewable energy and battery installation courses continues to grow, and we expect this partnership to further increase demand for this training at both the Tonsley and Elizabeth TAFE campuses," the Minister added.
Minister for Energy and Mining Dan van Holst Pellekaan said the partnership will 'further support the delivery of cheaper power to SA households'.
"The establishment of the State Government's Home Battery Scheme has been welcomed by South Australians wanting to take control of their energy costs, and this partnership between sonnen and TAFE SA means even more South Australian job seekers can benefit from the Scheme as well," said Minister van Holst Pellekaan.
"More than just delivering lower power prices, it is vital that we give South Australians every opportunity to benefit from the jobs created by the state's home battery boom – and partnerships such as this one with sonnen and TAFE is key to making this happen."
Marc Sheldon, Managing Director, Operations and Finance of sonnen Asia Pacific was equally enthusiastic about sonnen's new partnership with TAFE SA.
"Safety and quality are the number one priority for sonnen. Since the installation in the customer's house is a crucial part for this, we're delighted to partner with TAFE SA to guide South Australian installers on the technical best practices to deliver a quality installation for sonnenBatteries," said Mr Sheldon.
"The sonnenBatterie is an intelligent and affordable energy storage system that has proven itself in thousands of households across the world."
"sonnen's investment in TAFE SA is part of our broader strategy to deliver a quality product to meet the growing demand for reliable and affordable residential energy storage systems across Australia."
Sonnen's new manufacturing centre will be located at the former GM Holden site at Elizabeth. it will produce 10,000 batteries a year to meet demand from Australian households and for export to Asia Pacific markets.