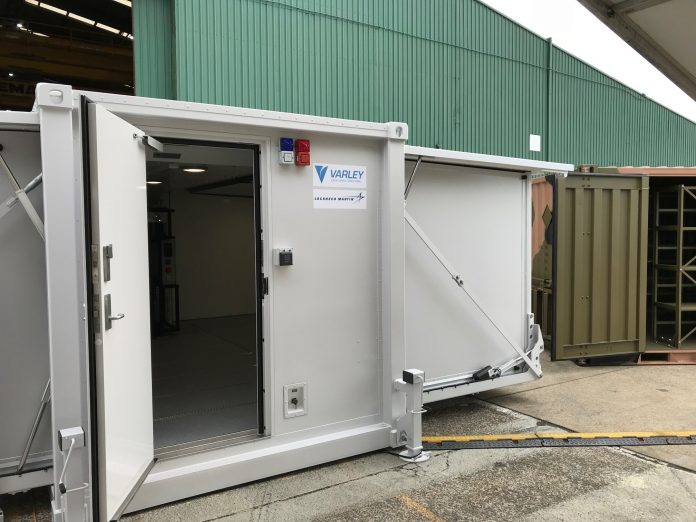 Lockheed Martin Australia has delivered the first two of 15 F-35A Deployable Duty Facility (DDF) cabins to the Australian Department of Defence.
Built by the Hunter-based company Varley Group using Australian Steel, the deployable cabins are a critical part of operating and maintaining the Air Force's new fighter aircraft, whenever they are deployed away from their future homes at RAAF Bases Williamtown and Tindal.
Lockheed Martin Australia handed over the two cabins for fit-out at Royal Australian Air Force Base, Williamtown on Wednesday, marking an important milestone in the lead up to arrival of Australia's first two F-35A aircraft.
Commenting on the ADF's formal acceptance of the deployable facilities, Lockheed Martin Australia CEO Vince Di Pietro said:
"The deployable cabins are an evolutionary development and play a critical role in operating and maintaining Australia's F-35 fleet whether from their home base or deployed further afield." Mr Di Pietro noted.
"DDF mission system evolution involves the digital development of our deployable facilities and has the ability to accommodate the full operator workforce needed to utilise fully F-35 capability when deployed from home base."
"When operating the F-35, off board information systems are required to operate seamlessly in operational scenarios, these Australian built and designed cabins make this possible."
He said the standard ISO sized cabins meet the highest-level specifications for transport by air, land or sea, security and sustainment, adding that their digital systems are optimised for ADF operations.
"Lockheed Martin Australia's integrated engineering process dovetails with the standardised Defence Systems Engineering approach," Mr Di Pietro, continued.
"This ensures that all 15 deployable cabins can be positioned to support Australian F-35A software verification and validation activities and provide transportable, secure workspaces for ADF personnel to support operations and maintenance activities."
"Lockheed Martin Australia has the necessary System Integration experience to design, develop and integrate advanced technology products and systems to support the ADF."
Defence Minister Christopher Pyne welcomed the Department of Defence's acceptance of the first two deployable cabins as an important milestone for the full operation of Air Force's F-35A aircraft.
"All 15 deployable cabins will provide transportable, secure workspaces for Australian Defence Force (ADF) personnel to support operations and maintenance activities as part of the future networked ADF," Mr Pyne concluded.
Image credit: https://lockheedmartinau.mediaroom.com