A new study on the Australian automotive industry predicted that the closure of car manufacturing facilities could impact the economy with a loss of $29 billion or two percent of the national GDP, and a fall in national employment of nearly 200,000.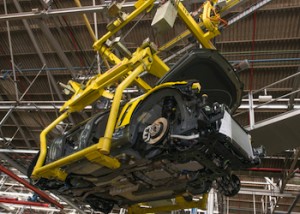 The study commissioned by the Australian Workplace Innovation and Social Research Centre from the National Institute for Economic and Industry Research found that aside from the main car manufacturing states of Victoria and South Australia, the impact of the closure of Ford, Holden and Toyota would extend to other regions including Queensland and New South Wales.
Based on the linear decline in the production methodology that has been applied in the study, Victoria could lose over 98,000 jobs, while South Australia would lose nearly 24,000. Queensland would lose a little over 30,000 jobs while employment in New South Wales could decline by as much as 32,000 as these states experience the flow-on effects of car manufacturing closures.
"This is a national as well as a regional problem," says John Spoehr, associate director of Adelaide University's Australian Workplace Innovation and Social Research Centre, quoted in a report on ABC News.
The study is based on the assumption that the exchange rate will return to 80 cents to the United States dollar, with mining investment falling significantly to 2012 prices, with a relatively modest recovery in local car production and employment increasing by approximately 15 percent from current levels.
A second scenario was created in which the Aussie dollar fell 65 cents against the US dollar and a recovery in motor vehicle is allowed for where thirty percent of the lost production from the 2005 levels is regained. In this case the loss in national gross product would be in the vicinity of $44billion while the decline in national employment would be 270,000.
The report also issued a warning for a further decline in jobs and production output as skills deteriorate.
"Additional production losses can be expected from what has been assessed here due to the undermining of the economics of complex manufacturing in Australia," according to the study.
"The motor vehicle industry isthe main conduit for the introduction into Australia of advanced technology and the training of labour in the necessary skills."
"The ending of this conduit will increase the costs for other complexmanufacturing industries do doubt leading to other plant closures."