NIKE has just patented a new type of technology for additively manufactured shoes that will be based around the strobel – the fabric or non-woven material that is stitched to the bottom of a shoe upper.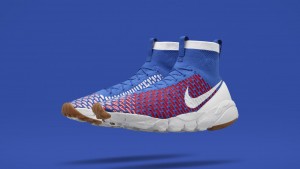 NIKE's patent calls for a machine that will be able to scan the design into a computer, and based on the data, print sewing guidelines on the strobel.
NIKE's increasingly popular Flyknit athletic shoe line primarily uses strobel.
The foot scanning technology, along with pressure mapping and detailed gait analysis will enable Nike to tailor footwear according to a customer's unique requirements, and with the help of Nike ID, customers can choose any colour and design.
The company also announced that it has partnered up with world-class global manufacturer Flex to accelerate NIKE's vision to bring advanced innovation to its manufacturing supply chain.
"Flex's proven expertise in design, engineering and manufacturing in industries like automotive, medical and consumer electronics make them a perfect partner to help us revolutionise footwear manufacturing. Together, the future of personalised, rapidly-delivered product that is made more efficiently and with less waste is well underway," said Eric Sprunk, Chief Operating Officer, NIKE, Inc.
"NIKE is an iconic brand and innovative leader – always providing the best designs, performance and quality to consumers. We are thrilled to be their sketch-to-scale partner, collaborating to bring innovative supply chain and product solutions and high quality, advanced manufacturing to NIKE and their consumers," said Mike McNamara, Flex CEO.
The partnership with Flex is set to boost NIKE's efforts to enhance its manufacturing business model by investing in automation, modernisation, sustainability and innovative methods of manufacturing, such as Flyknit.
"When you combine the new Advanced Product Creation Centre at our world headquarters in Oregon, the product customisation project in Memphis, and the innovation work at Flex's Lab in California, we have a powerful opportunity to deliver new performance innovation to consumers through advanced, world-class manufacturing," concluded Sprunk.
Just last week, Adidas introduced its customisable, 3D printed midsole called Futurecraft 3D that is set to allow anyone to get the perfect-fitting shoe made on the spot.