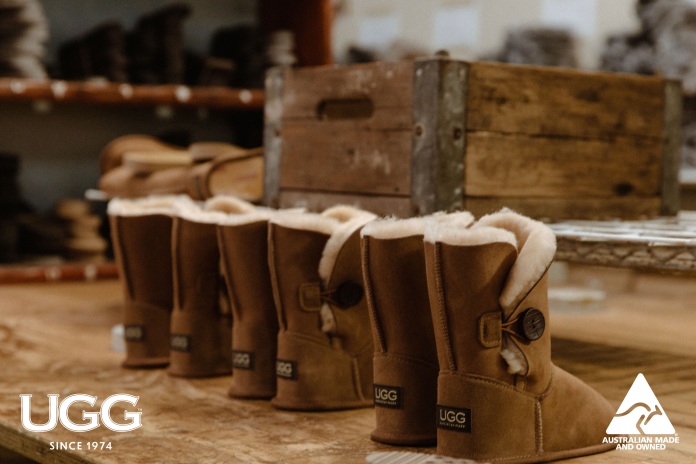 Media Release by UGG Since 1974
For many Aussies, the word UGG is synonymous with Australia: just like Vegemite and the Hills Hoist, our iconic sheepskin footwear is known the world over. But what most people don't realise is that UGG is not in and of itself a brand, but a generic word for a sheepskin boot and more than 96% of the world's UGG boots are now made in Asia.
Believe it or not, if you have a pair of UGG boots at home, chances are they weren't made in Australia. But one Australian family-run business continues to stand strong against the tide of companies moving their operations offshore, by continuing to craft real Australian made UGGs here in Australia. 
Enter UGG Since 1974, a third generation, family-owned manufacturing business, handcrafting premium quality UGG boots at their workshop in South East Queensland for over 50 years. Run by Gold Coast locals Todd and Hannah Watts, UGG Since 1974 is one of the last genuine Australian made manufacturers of UGG boots, and they pride themselves on a completely Australian operation, transforming sheepskin hides into high quality footwear that we've come to love as a staple in our winter wardrobes. 
The brand itself is renowned for producing the world's best quality UGG boots, and after a quick look around their workshop, it's easy to see why. Using only the fluffiest, most luxurious Australian merino wool, coupled with a handcrafted manufacturing process that ensures each and every pair is nothing less than perfect, consumer confidence in the brand continues to skyrocket year on year, demonstrating a clear trend in the market: Australians have come full circle and are again favouring the 'real deal' – Australian made UGG boots. 
"The UGG story can be a confusing one for shoppers" explains Todd Watts, owner of UGG Since 1974, "because it has quite a convoluted history, and finding an Australian made pair of boots can be like finding a needle in a haystack since all of the logos look quite similar." In fact, you could search your local shopping centre, large department stores and even massive online retailers like The Iconic or ASOS, and still not find an Australian made pair of UGG boots in sight. So how did this come to be? How did one of Australia's most iconic innovations come to be, well, no longer strictly Australian? 
Put simply, the word 'ugg' is not able to be trademarked in Australia, so just like coffee (which can be made and sold by anyone), so too can UGG boots. This is why you may see so many different stores selling them throughout the country. What's more, outside of Australia, an American owned company (with no connection to Australia) holds the trademark for the word "UGG", meaning the original manufacturers of UGG boots here in Australia like UGG Since 1974 are unable to sell their boots outside our Australian shores.
There have been numerous "David and Goliath" news stories over the years of this American company suing 'mum and dad' UGG manufacturers in Australia, so you'd be forgiven for feeling a little confused about how to buy Australian made UGG boots and whether it's possible to still find them here at all. 
The best way to find Australian made UGG boots is to of course look for the green and gold Australian made label, but also to look for the fabric sew in label within a seam of the product, which will distinctly tell you where the boots were made. "Whilst some companies bring their boots in partially made and complete a small step like gluing the soles on here in Australia, the sew in label will always give away the origins of the boots, and is the best place to check if you're not sure whether your boots at home were made here," says Mr Watts.
Australian made support in recent years has allowed UGG Since 1974 to keep its doors open in the face of pandemic conditions, ensuring the continuity of up to 30 jobs and that a future remains in Australia for manufacturing UGG boots. "With so much competition from imported products, and a great deal of confusion around which brands are genuinely Australian made, the renewed interest in consumers specifically seeking out Australian made products has truly changed the trajectory of our business," says Mr Watts. "Thankfully, we're looking well into the future as more and more customers continue to choose our Australian made products, and that puts a smile on the faces of my family, and all of our staff" 
UGG Since 1974 products are available strictly via their online store UGGSince1974.com.au or through their retail storefront at 23 Christine Avenue, Miami. 
Image Supplied: UGGSince1974.com