The New South Wales Parliament House has shown its support for jobs in the State by drinking a local tea brand and keeping stocks of the product in the establishment.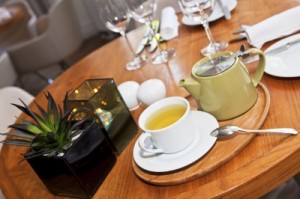 NSW Premier Barry O'Farrell announced on Thursday its support for 100% Australian-owned Madura tea, a tea-growing, blending and packing company located in the Tweed Valley near Murwillumbah.
According to the media release, Madura directors Stephen Bright and Gary Davey joined the Premier for an afternoon tea at the Parliament Office together with Speaker Shelley Hancock and Member for Tweed Geoff Provest.
"It is appropriate that our Parliament, which represents NSW residents, sets an example by stocking and showcasing our State's products wherever possible," said the Premier.
"By serving Madura tea at NSW Parliament House we are doing our bit to support local jobs and the economy in the Tweed Valley – and providing our guests with a tea that is bursting with flavour."
Mr. O'Farrell did not scrimp on praises for the local tea brand, which has won awards for its quality and has beaten other well-known tea brands.
"Madura tea is naturally low in caffeine and high in antioxidants – but importantly it also tastes fantastic," Mr. O'Farrell said.
In August, Madura Tea Estates won the Blue Taste Award for Australia's best teabag for a second consecutive year, reports Australia Food News. The company's teabags received the highest satisfaction for taste in a customer satisfaction survey, beating rivals Twinings, Tetley, Lipton and Dilmah.
Madura, which means 'paradise' in Tamil, is owned by four Australian-based families and remains Australia's wholly owned and operated tea company. According to Madura's website, all product development, tasting, grading, blending and packing are done on the estate to ensure the quality from the plantation to the cup.
Mr. O' Farrell said he asked Mrs. Hancock to stock the teas after hearing about the Madura story.
"We take great pride in serving up the very best produce NSW has to offer in our dining room, cafe and at catered functions and Madura tea has already become a favourite," Mrs. Hancock said.
"We are determined to do everything possible to showcase and support successful NSW businesses like Madura."