US President Barack Obama has announced a new public-private manufacturing hub during his visit to the North Carolina on Wednesday, fulfilling his promise to help create high-paying jobs and giving a boost to the industry which he considers essential to increasing the income of the middle class.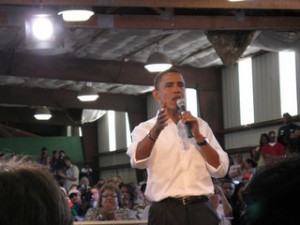 According to a Reuters report, the manufacturing hub in Raleigh is a consortium of 18 businesses and six universities, to be led by the North Carolina State University. The institute, which will be backed by $70 million in federal funding, will develop high-power, energy-efficient electronic chips that would help make devices smaller and faster.
Companies involved include ABB, APEI, Avogy, Cree, Delphi, Delta Products, DfR Solutions, Gridbridge, and Hesse Mechantronics, among others.
The Raleigh hub is the first of three manufacturing hubs that Obama announced in his State of the Union speech a year ago. The two other innovation hubs will be announced in the coming weeks. One of the hubs will be focusing on digital design while the other will cater to light-weight metals.
$200 million in existing federal money from the Defense, Energy and Commerce departments will be used to fund the program. The funding was matched by the industry, state and local sources.
"We're not going to turn things around overnight. A lot of jobs were lost in the textile industry and furniture-making," Obama said, quoted in an AAP report published via ABC News.
"This can be a breakthrough year for America."
"The pieces are all there to start bringing back more of the jobs that we've lost over the past decade."
Jobs are still a major area of concern in the US, as the latest economic data showed that U.S. employers hired the fewest workers in nearly three years in December. Since last month Obama has pledged to fill in the gap between the rich and the poor and has turned his attention again to economic issues, following a tumultuous year of foreign and domestic problems.