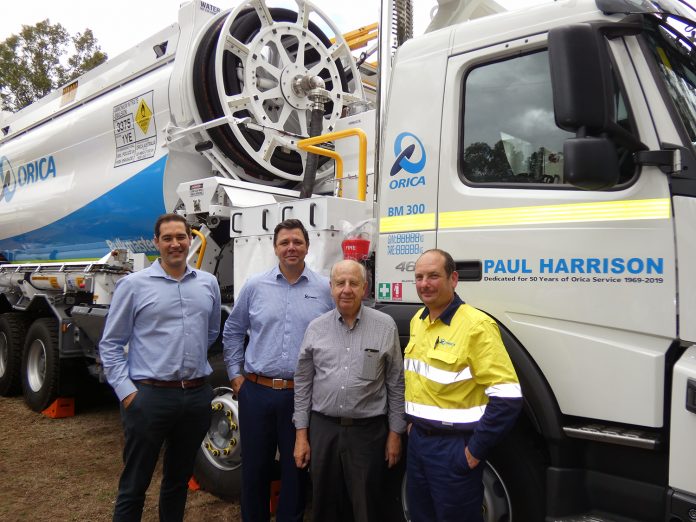 Orica has recognised its longest serving employee, Mr Paul Harrison, by naming its 300thBulkmaster (BM300) Mobile Manufacturing Unit after him. 
Mr Harrison has been on Orica's books for more than 50 years, overseeing the production of NG explosives, boosters and watergels and the production of bulk explosives across Australia.
Since 1996 Mr Harrison has served as Orica's Statutory Liaison and Security Manager ,responsible for ensuring that the company's products are licensed and regulated; and its employees, equipment and vehicles are licensed and authorised.
He is also an active member of the Australian Explosives Industry and Safety Group (AEISG) for promoting safety within the commercial explosives industry and developing codes of practice.
Speaking at a celebration at the Kurri Kurri Technical centre last week, Mr Harrison said he was 'humbled' by the company's gesture to name its 300th market-leading delivery system after him.
"Fifty years have flown by and I've thoroughly enjoyed it, we've had the ups and downs but basically, the ups have outweighed all the downs," he said.
"I am absolutely stunned by all of this I understand the organisation wanted to do something, but I didn't realize how much the organisation appreciated me. I am very humbled by the Bulkmaster 300 dedication today.
"An old hand once said to me, "ducks don't fly during the shooting season" and I've always kept a very low profile while trying to contribute as much as I possibly can to the organisation."
Orica launched the Bulkmaster7 last year for use in the opencut mining sector. According to the company, it provides 'a leap in productivity' and safety on bench, and is another significant step towards automating drill and blast operations in the future.
The machine will be deployed and operated in Queensland's Bowen Basin from March 2019 and will be the 4th Bulkmaster7 for the Queensland region.
Image provided