Ever since 1996, commercial and industrial solutions provider AE Smith has been the frontrunner in implementing prefabricated solutions on a project-by-project basis, aimed at reducing delivery time and maximising the return on investment. This was the year when the company masterminded a new and unique installation method while working on the Woodford Correctional Centre project, earning high recognition in the process.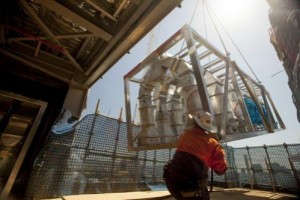 The company is always looking to build on its prefabrication expertise and deliver its customers better ROI, higher safety and quality standards, as shown by its recent endeavour on the King George Central project. By utilising its unique and innovative prefabricated solutions, the company was able to reduce the projected installation time from weeks to days, resulting in significant time savings compared to traditional onsite commissioning processes.
According to the press release on Newsmaker, the hunger for further growth has seen the company secure the services of a Prefabrication & Modularisation Coordinator Colin Jones, who has a wealth of experience in the established "DfMA" (Design for Manufacture & Assembly) of prefabricated MEP (Mechanical, Electrical & Plumbing) modules gained by working in the UK construction industry.
Mr Jones, who has also worked for market leaders Laing O'Rourke and Crown House, will be looking to implement his experience from assembly operations at automotive companies including "lean manufacturing" and "lean construction" in the day-to-day operations in AE Smith.
"I was impressed with AE Smith's reputation for executing prefabricated solutions far before the broader Australian market realised the benefits," said Mr Jones.
"Imagine buying a new car from Toyota and then having four engineers turn up at your house to assemble it piece-by-piece in your garage! It sounds ridiculous. But in many ways, that's exactly how a lot of the Australian construction industry thinks right now. Yes, every building is unique. But each building also has many common parts that can be built using the same production line techniques used in automotive manufacture. Our goal is to find AE Smith customers even greater efficiencies – to save time and ultimately increase their return on investment."
"We already have the experience and capability to deliver a range of prefabrication in response to specific customer objectives and site requirements. Colin's appointment helps ensure AE Smith's extensive knowledge is consistently shared across the business, and with customers. Our prefabrication and BIM processes will ensure continual improvement – moving the industry forward and keeping AE Smith in front," said Steve Jackson, the company's General Manager.
Mr Jackson said AE Smith's early involvement in the building strategy will deliver great benefits to its clients in terms of accelerated construction times, improved productivity and reduction in onsite health and safety risks. According to him, the company has invested and will continue to invest heavily in prefabrication techniques and technologies that will help customers compress the critical path of their project.
"The evidence is clear. The traditional construction approach takes much, much longer. Financial return can be a powerful motivator to customer and contractor alike. Using prefab, customers can be more confident they'll get a return on their investment over a shorter period of time. For some, the time AE Smith helps save in the critical path could be the difference between a building being delivered on time or the client benefiting from early occupancy," concluded Mr Jackson.