Advanced manufacturing company Quickstep has announced the establishment of a new global research and development centre at Deakin University's Waurn Ponds campus that will manage ongoing development of all the company's technologies and intellectual properties.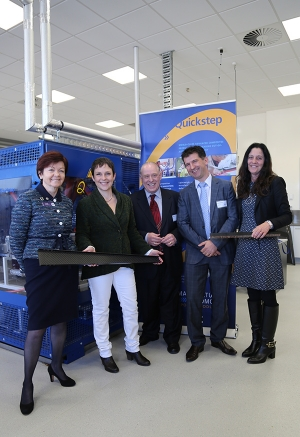 The new centre – located near Quickstep's automotive division – will support the fast-tracking and industrialisation of Quickstep's patented Qure process for moulding and curing carbon fibre composite parts in niche volumes; and the development of RapidQure, a fully automated high-volume manufacturing system for the automotive industry.
"Establishment of our global R&D centre is a strategic step which expedites development of Quickstep's technology and intellectual property in Australia. We are grateful for the support of Invest Victoria, which joins the Australian government and Ford Australia in helping to progress the establishment of our high-tech automotive and research centre at Waurn Ponds. Quickstep will benefit from access to Deakin University's 'carbon cluster' with its skilled researchers, laboratories and industry networks, close working relationships with partnered research institutions and potential customers," said Quickstep's managing director, David Marino.
"Deakin University is delighted to be strengthening our collaboration with Quickstep, Australia's largest independent manufacturer of aerospace-grade carbon fibre composites. The establishment of Quickstep's Automotive division at our Geelong Waurn Ponds campus further enhances our regional capacity and capability by introducing another carbon-based technology company into the precinct. Deakin is proud of its growing global reputation in working with industry and actively supporting industry growth and this move is a critical boost for job creation, industry engagement and development in the Geelong region," said Deakin University Vice Chancellor, Professor Jane den Hollander.
The development and commercialisation of Quickstep's advanced manufacturing technologies, in cooperation with Deakin University, is set to provide an opportunity for Victoria and Australia to take a substantial position in this growth sector.
"Securing Quickstep's R&D operations confirms Victoria's reputation as a global leader and as a state ready to attract and accept investment from across our region and the world. By facilitating this relocation, the Andrews Labor Government is creating jobs and generating investment in Geelong," said Minister for Regional Development Jaala Pulford.
Last month, the company was awarded a contract from a global Original Equipment Manufacturer to deliver a series of up to 1,000 lightweight carbon fibre interior parts, with production commencing in early 2016.