The Australian Steel Storage Manufacturers Group, an initiative of the Australian Steel Institute (ASI), has warned businesses that purchasing sub-standard imported steel storage products could bring about legal issues and exposure to health and safety risks.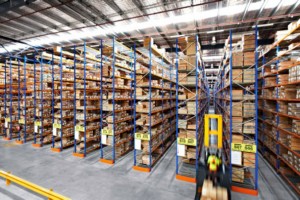 As Australia ventures deeper into the global market of steel supply, concerns are mounting that there is an unacceptable degree of noncompliant, uncertified and untested storage steel products. This issue brought about the formation of the Australian Steel Storage Manufacturers Group in 2010, a team composed of leading manufacturers Dexion, Dematic, Macrack, Commando and APC.
Group Chairman Peter Farmakis, who is also the CEO of Dexion, believes there is an inherent difficulty in determining the materials used and the method employed in the manufacturing of imported steel products since these are beyond the reach of Australia's legal and regulatory framework.
"The Australian manufacturing market is mature. It's one that's established a high-level of quality over many years, so that customers are insured against unsafe, non-compliant products by the very fact that they are purchasing locally manufactured products from within a strict WHS compliance regime," said Farmakis in a media release from ASI.
The Group says it is not uncommon for international suppliers to claim that they have satisfied the standards when in fact they don't. Accountability is lost when steel manufacturing is taken offshore and the burden arising from non-compliance is carried by both the procurer and supplier.
"The Group's primary objective is to ensure the health and safety of Australian businesses. Mitigating potential risks is paramount to the work we do, so we aim to raise awareness within the steel community of the issues associated with imports," said Farmakis.
The ASI has reported that the number of complaints related to non-compliant imported steel products has risen over the last five years. ASI national manager Ian Cairns has acknowledged that this is a growing trend.
"This spike is caused by the lack of accountability when it comes to imported products, many of which have been found to be non-compliant in accordance with Australia's strict standards," said Mr. Cairns.
"In particular, we are seeing a trend towards businesses procuring material such as steel plates, structural sections and metal castings from outside of Australia that are often found to have some issues in meeting local specifications."
To tackle these issues, ASI and the Group are working together with key industry stakeholders to assist businesses in their requirements of Australian law and regulations.
Late last year ASI held a seminar on the implications of the Work Health & Safety Act of 2011. This seminar was the venue for ASI to present a compelling case for compliance to standards linked to the law.
Other initiatives undertaken by the Group include WorkSafe Victoria's pallet racking operation and maintenance guidance notes, and The ASI's code of practice for rack safety inspection.
For more information on these initiatives, ASI and the Group, go to their website here.