Quickstep Holdings Limited, a manufacturer of advanced carbon fibre composites, yesterday announced that it has signed a long-term agreement with Marand Precision Engineering to manufacture and deliver 700 sets of carbon fibre composite parts for the F-35 Lighting II Joint Strike Fighter (JSF) aircraft vertical tails over the next 14 years.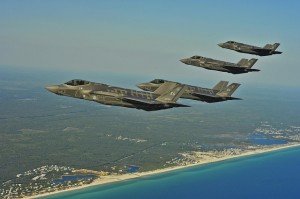 According to the media release by Quickstep, the estimated value of the agreement is US$139 million.
Marand will perform the assembly work on each of the 700 sets of carbon fibre composite parts, as well as the assembly work on parts from other suppliers, to deliver the vertical tails for their customer BAE Systems in the UK. The tails will then be delivered to Lockheed Martin's facility in Fort Worth, Texas, where they will be incorporated with other components for the F-35A variant of the JSF.
Quickstep expects to make first delivery to Marand's facility in Victoria in late 2015.
"We are delighted to sign this long-term agreement, which locks in the previous memorandum of understanding with Marand for the Joint Strike Fighter program. This is an important step forward for Australian manufacturing, which demonstrates the value of our capabilities for global aerospace and defence contracts, and our capacity to meet the complex schedules of international supply chain," Quickstep Managing Director, Philippe Odouard, said.
Quickstep expects the long-term agreement to provide $13 million p.a. sales revenue at peak production rate. The signing of the long-term agreement follows Quickstep's memorandum of understanding with Marand, signed in November 2009.
Initial work to expand Quickstep's existing Lockheed Martin process qualification has already commenced. The company anticipates only minor additional investment in new equipment.
The F-35 Lightning II Joint Strike Fighter is a fifth generation aircraft, combining advanced stealth with fighter speed and advanced networking capability. F-35 aircrafts have been purchased by the US Air Force, US Navy and US Marine Corps, and at least 10 other countries, including Australia.