3D printing holds the key to unlocking hundreds of thousands of jobs, industry insiders said.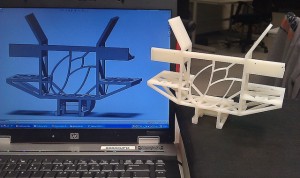 According to the article on Fox Business, experts closely affiliated to the industry said at last week's Inside 3D Printing Conference in New York that 3D printers have the capacity to revolutionize American manufacturing and create thousands of jobs in the process.
"You can design something today and start manufacturing it tomorrow… In the past, it would take weeks or months to get to that point. So it's really opened up a whole big opportunity for entrepreneurs of start-up companies," said Terry Wohlers, President of Wohlers Associates.
Mr Wohlers and other entrepreneurs utilizing the technology said 3D printing saves both time and money.
"Instead of sending your models off to another company and waiting for [them] to come back, or going four months with a mold to China and coming back… You can iterate on your desk," said Tinkerine Vice President Todd Blatt.
Cornell Professor Hod Lipson, the author of "Fabricated: The New World of 3D Printing," said the technology eliminates the necessity of finding wealthy financial backers to deliver the product on a massive scale.
"If you have an idea that you want to promote that involves making something, up until now you'd have to quit your day job and find investors that will help you make your first batch, because you'd have to think mass production. Today, you can start a business making small batches."
Entrepreneurs point out the affordability of some 3D printers, which, according to them, could keep businesses from going overseas for manufacturing reasons.
"What's really nice about this [3D printer] is it's actually very affordable. An individual, a small business person or an entrepreneur — or even a young product designer — can afford to have [their] own little factory," said Formlabs' Will Walker, whose desktop 3D printer sells for $3,299.