Victorian Minister for Manufacturing, the Hon David Hodgett, will launch CSIRO's new Rapid Automated Materials and Processing centre (RAMP) on Thursday, 2 October, at CSIRO's Clayton Campus.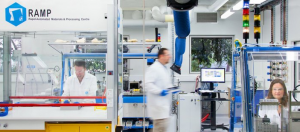 The RAMP is a state-of-the-art laboratory where robotics, informatics and technical expertise will be utilised to help Australian SMEs, start-ups and large organisations alike to fast-track discovery of advanced materials, optimise new products and solve processing challenges.
"RAMP allows the fast-tracking of research through the application of automated materials synthesis and characterisation workflows, with extensive characterisation and material performance capability," it says in the media release by CSIRO.
The accelerated research and development process and the improved productivity gains from using high-throughput and automated experimentations will enable the discovered scientific solutions to reach the marketplace in a timely, sustainable, resource and cost efficient fashion.
Some of the functions and capacity of the centre have been available online since 2011 and have helped a number of Australian companies from a wide range of industries, including the energy, materials, mining and chemical production sectors, develop new materials and technologies to advance their businesses.
"Consolidating our facilities, equipment and talent into the one Centre, located in the heart of Victoria's innovation and manufacturing arena, assists Australian industry to facilitate and streamline the development of new advanced materials by exploiting our robotic and automated equipment and using the world-leading expertise of CSIRO researchers," media release.
The RAMP centre will feature several facilities, including intelligent experimental design, robotic-assisted synthesis platforms, high-throughput performance evaluation, rapid and automated characterisation and a data storage and mining facility.