South Australian electronics manufacturer REDARC was named 2014 Telstra Business of the Year, a program that has celebrated brilliant Australian small and medium businesses since 1992, at an illustrious ceremony at Crown Melbourne on Thursday; becoming the first South Australian business to receive the prestigious award since commercial and industrial recycling business Resource Co in 2002.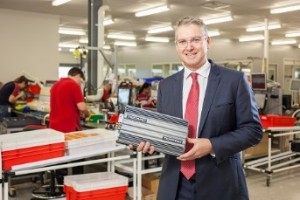 REDARC, an Australian owned and operated diversified manufacturer of electronic accessories and power sources, supplies its battery charging, portable solar, electronic safety and voltage converter products to local and international customers ranging from 4WD enthusiasts, caravan-towing grey nomads and the bus, rail, trucking, mining and emergency vehicle industries.
Owners Anthony and Michelle Kittel, who took over the small electronics business in 1997 and immediately introduced a culture of innovation and skills training, have said that the secrets of the company's success were "continually investing a minimum of 15% of [their] sales revenue back into research and having about 25% of [their] employees working in R&D and innovation."
"Winning this award will provide a huge boost to the Australian manufacturing sector. It shows that an unrelenting focus on innovation, differentiation and development of great staff can enable manufacturing to succeed whilst based in Australia," said Anthony Kittel, REDARC's Chief Executive.
"As an advanced manufacturer we need a highly skilled and empowered workforce. The commitment of the REDARC employees to learning and embracing training is impressive. Without a highly skilled workforce our product wouldn't be at the technology level it is."
REDARC, which has a distribution arm in France, also sells its battery management products into countries like Iceland and Spain and has medium term plans to design and manufacture in the US.
Will Irving, Group Managing Director of Telstra Business and Telstra Business Awards Ambassador, said the 2014 national winners were pioneers who excelled in their ability to be brilliantly different and change industries by either creating new businesses or thinking about old business models in new ways.
"REDARC is a high growth, high quality manufacturer that has focused on innovation, deep customer understanding, targeted marketing and investment in new capability," Mr Irving said.
"They demonstrate that with a very strategic focus on their value proposition, as well as partnerships with Universities and high levels of investment in research and development and production quality, domestic manufacturers can capture value and not just survive, but thrive. The Awards judges described REDARC as a financial success with impressive durability and robustness, high future potential and significant investment in staff training and product development."
The winners of the 2014 Telstra Australian Business Awards are the following:
Start-up Award
Country Wellness Pharmacy
Winnellie, NT
Micro Business Award
Urban Escape
Prahran, Victoria
Small business Award
Lark Distillery
Hobart, Tasmania
Medium Business Award
REDARC
Lonsdale, South Australia
Regional Award
Stone & Wood Brewing Company
Byron Bay, New South Wales
Telstra Australian Business of the Year
REDARC
Lonsdale, South Australia