Australian battery storage developer RedFlow made a big leap forward towards achieving a commercial production of its unique "flow battery" with the appointment of US giant Flextronics as its manufacturing partner.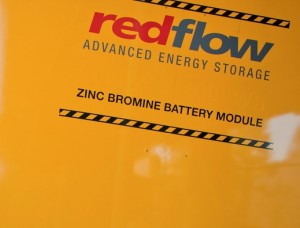 According to the news article on Renew Economy, RedFlow's zinc bromine battery will be the first of its type to enter large scale production.
"This is a significant milestone for Redflow," CEO Stuart Smith told Renew Economy.
"The Redflow ZBM battery will be the first flow battery globally to enter large scale production and several are currently being integrated into prototype energy storage systems with large system integrators."
The RedFlow ZBM battery is a high performance battery capable of providing high energy density and excellent performance in deep discharging applications. Its daily charge and discharge capabilities make it perfect for storage and shifting of intermittent renewable energy, and managing peak load of supporting off-grid systems. The battery operates at 100% and partial charge and discharge without degradation.
According to the article on Proactive Investors, RedFlow's business strategy is to sell its zinc bromine battery modules (ZBMs) to companies who supply equipment to electricity utilities, government, renewable energy companies and electricity users in general.
RedFlow already has two confirmed customers for its new product– Emerson and Raytheon– and is hoping to secure more in the coming months. To attract more suitors, the company is already working on potential improvements, focusing on reducing manufacturing costs and the longevity of the battery.
RedFlow firmly believes that the market opportunities for cost-effective energy storage solutions are immense and perfectly suited for use in electric and hybrid vehicles and utility grid storage.
Flextronics is one of the world's biggest end-to-end supply chain solutions company with annual revenues of $25 billion. Mr Smith believes that the manufacturing agreement with Flextronics would benefit both companies.
"This agreement will allow the ramp up of volume production to meet targeted sales over the next 12 months, and will see the Redflow ZBM module being manufactured by a significant global manufacturer with a history of manufacturing excellence," Mr Smith said.
"We look forward to working with Redflow in addressing the growing need for energy storage with this innovative product that can be implemented across multiple system integrators and applications," said Jeannine Sargent, Head of energy at Flextronics.
Production of the Redflow ZBM battery is expected to commence in the next 6-9 months.