Carnegie Wave Energy Limited (ASX:CWE), the company working on the Perth Wave Energy Project (PWEP) for providing clean, renewable energy and potable water to Australia's largest naval base HMAS Stirling, has provided an update on the pipeline installation work package for the project.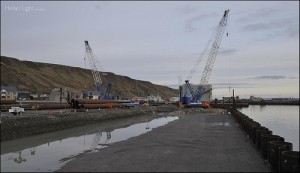 According to the ASX announcement, the pipeline installation work has already commenced. The first stage of installation is the shoreline conduit crossing which involves the installation of a 400 mm diameter high density polyethylene (HDPE) pipe capable of withstanding high pressure delivery and return pipes that transmit the high pressure water between the offshore and onshore project sites, as well as a 110 mm HDPE pipe which will hold the communications cable and desalination outfall pipe.
The company has also confirmed that the two main subsea pipelines and associated end fittings and interconnections have arrived from the US and will be delivered to offshore installer Total AMS Pty Ltd. for mobilization ahead of installation, which is expected to take place later this month.
The Perth Wave Energy Project uses subsea high pressure pipelines for the transmission of high pressure water, which is then pumped by Carnegie's CETO units to the onshore power station and desalination plant. The plant then returns the low pressure water back offshore to the CETO units to be re-pressurised.
The manufacture and supply of 6km flexible steel reinforced pipe and associated end fittings and interconnections was awarded to FlexSteel Pipeline Technologies from Houston Texas.
Carnegie is an Australian wave energy technology developer and 100% owner of the CETO Wave Energy Technology intellectual property. The company's CETO technology is environmentally friendly, has minimal visual impact and attracts marine life, and is capable of converting ocean wave energy into zero-emission electricity and desalinated water. The system is fully-submerged in deep water and is completely resistant to breaking waves and storms.
PEWP will be the first commercial-scale CETO grid and desalinated water connected wave energy project. The project is supported by $13.1 million in Australian Government funding through the Australian Renewable Energy Agency's Emerging Renewables Program, as well as by $7.3 million from the Government of Western Australia's Low Emissions Energy Development Fund.
The Desalination Pilot is supported by a $1.27 million Ausindustry grant from the Clean Technology Innovation Program.